Monday, 17 March 2008
EXPOSED!

http://answers.polldaddy.com/viewPoll.aspx?view=results&id=430599
And so by the evening that I wrote my last post, they FINALLY exposed Obomba for who he really is. ABC, CBS, NBC, gave you about a 10 second bite of the film clips from Jerimiah Wright. This is the fuckin' media that most American's watch...however, the cable news have exposed this racist pig for what he is. The latest polls are showing buyer's regret, but... if you have a reciept you can get your money back and that's just what they are doing.Obomba is so done! He spoke very carefully when adressing Jerimiah Wrighty saying he never sat in the pew when these exact words were spoken, however....20 years in the church and he never once heard any of these racist remarks against not only the white population, but America as a whole. FUCK YOU OBOMBA! When asked if he would sing GOD BLESS AMERICA , instead of answering YES, he paused and paused again and said"well not right now", how bout a simple Yes? You people that voted for him should be ashamed of yourself whether you are White, Black, Hispanic, Asian, It doesn't matter, when it comes to something as important as picking a leader for our country, you should take a little time and really look into the canidate you are voting for BEFORE you make a decision based on media hype.The polls and blogs are showing that he is done, so much regret and they are all saying if I would have only known BEFORE the primary's, before the caucase's, I wouldn't have given him my vote. I take my vote very seriously and I have spent numerous hours on line, watching news because I want what's best for our country,so if he get's the nomination , which right now look's like next to impossible, blame yourself , no one else.Tonight, Fox news Greta Van Susteren invited both spouse's to her show, Bill Clinton accepted and he was in New Orleans with Brad Pitt helping rebuild Katrina, Obomba's wife declined an interview. Gee, very easy when you have the floor to tell American's what a piece of shit our country is, but when it comes to an interview where you are asked question's and can't make racist , hateful statement's, you decline. You had your chance, now go back to your church and ask God for mercy on yours and your husband's pitiful soul's and may you rot in HELL! Or maybe you could find assylum with reverend Wright, we here he fled the country and is hiding out in Africa, how convenient for your campaign.
Back to Bike's and things.I took two of my student's to a tournament this past Saturday and they did so good. They are both beginner's. mother and daughter. We walked out of there with six trophys. I competed, wasn't quite ready and against doctor's order's, lost my first match in sparring, was outside and wasn't ready when they called us to the ring, my fault, won my second fight. Not to good in form's took third place, I didn't feel 100% and I didn't feel like I even deserved that placing.Sunday I took Hammer out to try and find a gasket for Cruella's tranny, no luck, so she's still on hold till I can get to the city. Have a Great week, CG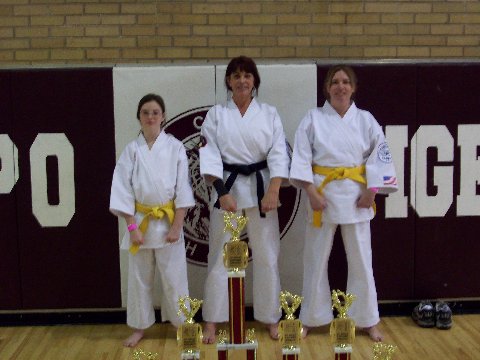 Posted by CruelGirl at 10:35 PM CDT