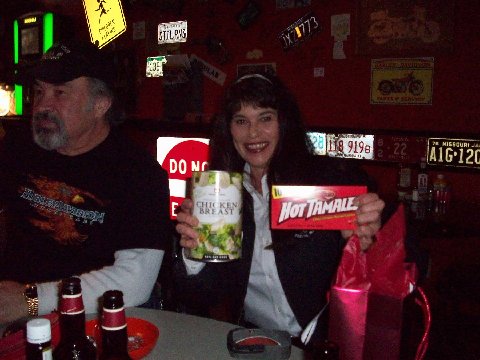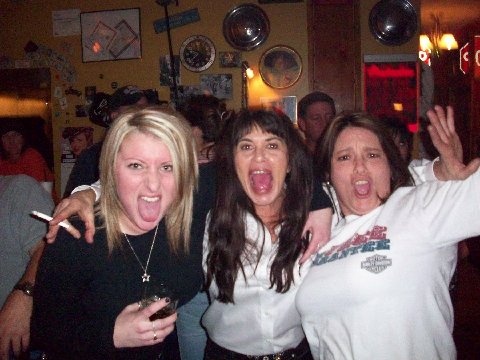 Celebrated the big 50 two week's ago, I sure don't feel like I thought 50 was going to feel like. Yeah, my joints and bones ache, but I haven't led the normal lifestyle of most women either. So for all you youngster's out there, it's not so bad, in fact life gets so much better. I get teased at work because I'm always eating healthy and the only meat I eat there is canned chicken, so they got me a 3lb.8oz can of chicken breast for my birthday. Not sure why we have mouths open and tongues out, I think it may have had something to do with fresh strawberry daiquiri's.
I thought Spring was here last week, but not sure today, turned a little cold again, 70's last week, back in the 40's for highs and maybe some more snow this week. The days are getting longer as it is no longer dark by 5:00PM. Working has really put a big stop to my road trips. I never took the freedom for granted because I have always worked, but yet I was able to create my own schedule. I get up at 6:00 and get home around 8:00 which makes for a long day. Next month the shop will be open seven days a week, luckily I will be on a rotation and will have Sundays and Mondays off.
I rode in yesterday morning and when I got off my bike I was just at the right angle to notice my front rocker box was leaking on Hammer. I took the extended warranty and it has paid for itself more than once. Got it up on the lift and noticed that back cylinder was also starting to leak, so I got approval to get both cylinders done and going to have new valve seals as well. I checked my records and there is over 40,000 since the Big Bore was done, so it's time.
Been getting myself back into shape for a few tournaments this year, first one being in April. It doesn't take long to loose your endurance especially between Thanksgiving and New Years. I've got myself back up to five rounds in the ring. I have a makeup session in the morning, not really what I wanted to do on my morning off, but.....I accidentally set off my fire extinguisher behind my truck seat and I inhaled all that dry chemical stuff this past week right before my workout. Not sure what is in that stuff, but I couldn't get any air during my workout, so we cut it short.
Don't have to much planned the next few week's other than the Donnie Smith Bike show in Minneapolis at the end of March. I so need a road trip on my bike. Have a great week, CG