Friday, 23 February 2007
FINALLY!!!!!

I finally got out for a ride on Wednesday, big mistake because I was just getting over a cold and kicked it back in and was feelin' like crap yesterday. I didn't ride far, just 100 miles to the city and back, but it sure felt good. The streets were still a mess, never did get the rain we were supposed to get. It's supposed to be nice tomorrow, but I think I'm going to have to skip the riding so I can go to my Sunday Workout, I had to bow out early last night because I wasn't feeling well. My condolence's to "Rude" on the loss of her grandfather. Have a great weekend, enjoy the sunshine and most of all be safe! CG
Monday, 19 February 2007
MARDI GRAS IN STL
Can't make it to Mardi Gras in New Orleans? Than come to St. Louis for a day. The Mardi Gras celebartion starts off in the morning with a parade and contines throughout the day in Soulard where the streets are closed to traffic and it's open container from bar to bar. It was colder than usual, so we left the bikes home, still a lot of ice on the streets. The cold didn't stop the people from coming out and there were beads a plenty. I think winter is over here for us, we're back up in the 60's all week and with some rain forecast for tomorrow, hopefully it will wash the streets clean of all the sand and salt. I will be out on my bike by Wednesday, it's been at least a month now or close to it.Have a great week, CG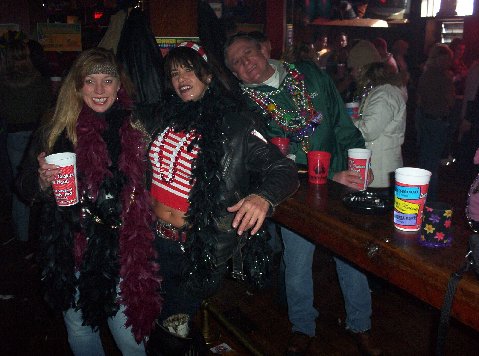 Thursday, 15 February 2007
BRRRRR.....IT'S COLD!!
I think were all feeling it, my heart goes out to eveyone out East, especially everyone in New York. the 1-2 inch's we got here makes me feel guilty. Granted, it was nasty and cold and I spent an entire day out on the tractor removing all the slush off the roads and drives before they froze and the so called "Snow" came, but when the Hell is it going to end for all of you in the northeast? Than we have the Tornado that hit New Orleans, those of us that have a roof over our heads with heat should be thankful for all we have. Just a reminder, I don't litter unless it's edible food for the critter's. So if your in one of those snow covered area's and you happen to be one of the few that DON'T normally litter, if you have a bit of your sandwich left, or a couple of fries in the bottom of the bag, before you toss it in the trash, throw the edible part out to the birds and animals that need to find food right now. Also, birds love cat food and it's cheaper than bird seed, so if you put some out for the cat's, put a little out somewhere else for the birds, they'll apprciate it.I'm going down to the city this weekend for the STL Mardi Gras, never been there before, we were going to ride, but do to the weather, we'll be going by truck. Stay warm, check on your neighbor's and relative's and well see each other down the road real soon, CG
Tuesday, 6 February 2007
SUPERBOWL
Well Superbowl didn't turn out the way I had hoped it would, but congrats to everyone in Indy. I don't think there was anywhere in the midwest that wasn't frozen over the weekend, brrrr......it was cold up in Chicago. I forgot what the winters in the Great Lakes can be like and this past weekend was a good reminder. I had a really good weekend and came home with a cold. The weather man screwed up again because we were in the high 50's today, the OM said it was 61 on his way home today. I'm hoping we get some more of that this weekend. The Wide Open Bike Show is this weekend in St. Charles, MO. and I will make it over there, just would be nice to get the bike out and be able to ride instead of drive, at least 40's anyway.Have a great week, CG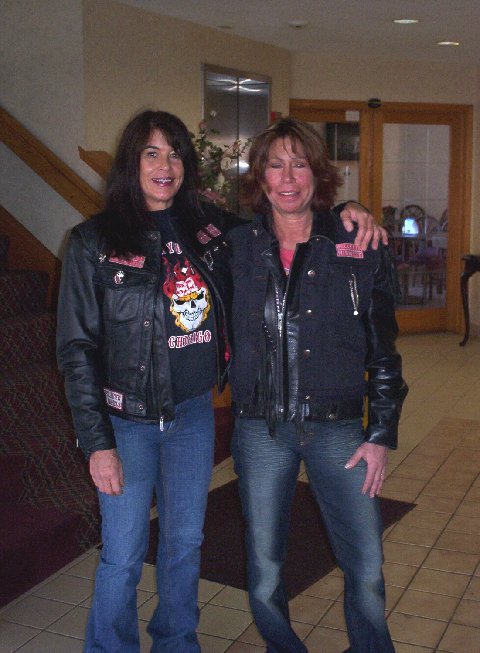 Wednesday, 31 January 2007
FLORIDA TOURNAMENT
Florida pretty much sucked. we had one day of warm weather and the other two days it was in the 50's. I did manage to get out and get some Sun one day when it got up in the 70's only to be attacked by ant's on the beach, so I made a break for the kiddie pool and hopped on the Pirate ship. I saw a really nice '64 pan at the HD dealer down there, very , very nice(pic below). The turnout was small at the tournament, I was disappointed to go all that way and have not much for competition. I went home with a 1st in forms and a 1st in sparring. Next year maybe I'll try the US Open in Orlando, I have family there and that was the highlight of my trip, I got to see them. I'm headed to Chicago this weekend for the Superbowl. Catch up with ya when I get back, CG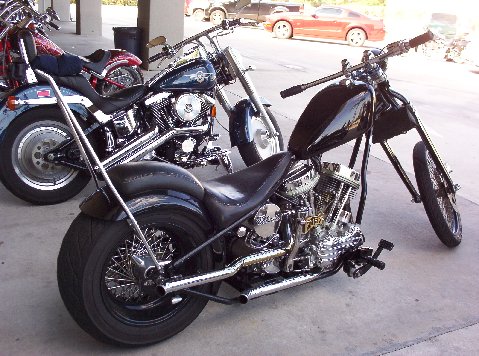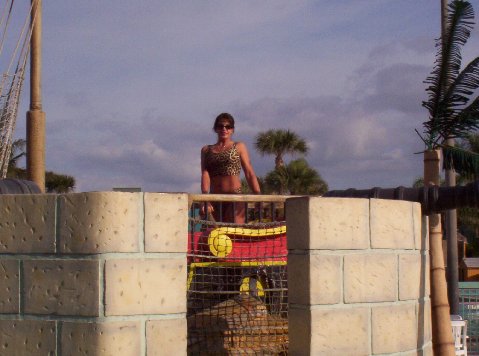 Sunday, 21 January 2007
CONGRATULATIONS TO THE CHICAGO BEARS!
Friday, 19 January 2007
DOMAIN CHANGE
I'm phasing out the cruelgirl.org domain and I would like to ask you to please make the changes in your favorites. There will be two new address' which should be redirected within a day or so and you can use either one and the old address will still work, but as I said ,it will be phased out. The address is www.die-yuppie-scum or www.cruel-girl.com .I got out today for a ride, it was in the high 30's almost 40 and the same tomorrow, but we're supposed to get our first snowfall Saturday night. Over the years I have tried just about every kind of cold weather riding clothes and I have finally got a pretty good setup going that keeps me toasty warm without the bulk. My first suggestion is to get some of those leather over pants instead of chaps. They cover you completely, are easier to get on and off and keep out any draft. Mine have dual zippers that run all the way up the leg and they also zip down, so if you were to get to warm, you can zip it down a little from the top and let some air in(jamin'leather for less then $100). The next on my list of favorite's is thinsulate fleece lined jeans. Ladies, you will have a hard time finding these in small sizes. You can get them(LLBean, Bass Pro) , but they are relaxed fit and they are HUGE and they don't come smaller than a size 6. They fit under the leather pants, but wouldn't work good under chaps because of the excess material. I lucked out a few years ago and found a brand New Down filled leather similar to a bomber style jacket at the church thrift store for $5.00. That coat is so warm that all I wear underneath it is a underarmor type insulated top with maybe a light t-shirt, no bulk what so ever. The feet I have also found a cure for. I got some of those insulted hunting thermal insoles, pulled the old ones out of the Carolina's and all I wear for socks is a very light pair of sock liners (sierra trading post) and a light pair of sock's and no frozen feet. The frozen hands, we've all been there. I have had a lot of problems with my left hand from having surgery on my finger's and they have no circulation. I'm not one to ever indorse HD clothing, but I have to say, on the recomendation of a friend who swore by these gloves, I got a pair. I had some free credit to spend there anyway, so I used it up. This is the first pair of gloves in 30 years that actually keep my fingers from going numb without the bulk of big winter gloves. They are leather Gore-Tex gauntlets, HD brand and they are the bomb! I did notice that the ladies large and the men's small were about the same in size , but the mens actually felt thicker and they have the flexible knuckles where as the ladies don't. So if your a woman that can wear a man's small, go for the guy's instead. Last on the list of course is a fullface. You would not belive how many people that used to ride without a helmet now come up and tell me they can't believe how nice it is when it's cold or rainy out. I wear a light neck warmer, I just got a new one from my sis for Christmas and it's leather and very comfortable. You can get a good cheap light fleece one for about $5.00. Thicker is not better with a fullface, it make's it hard to turn your head. Just make sure you pull it up between your chin and helmet and let me tell you, you can ride all day like this, comfortable when it's 30 out. Just watch out for ice, my problem today was the cinders on the road especially at the stop signs, they can be bad if you have to stop real fast. I'll be laying on the beach this time next week, have a good week, CG
Friday, 12 January 2007
WELCOME HOME!!!!!

If you have been keeping up with the news you'll know that a rural boy, Ben Ownby has been missing all week. He got off the school bus and disappeared. In 2002 the same thing happened not far from where I live, actually about 20 minutes from here, Shawn Hornbeck disappeared the same way, riding his bike down the dirt road by his house and than he was gone. An unbeliveable event happened today, they found BOTH of the boys ALIVE in the same apartment building in Kirkwood, MO. Hornbeck has been gone since 2002! They have arrested a guy. The details are still sketchy, but it was the best news this community could get.I heard the news on the radio up in the barn tonight when I was feeding and I just started to cry knowing that these two kids were alive. WELCOME HOME!
SHAWN HORNBECK AND BEN OWNBY
Monday, 8 January 2007
Lady Wolverine sent me this link and I would like to ask you all to take one minute of your time and click on the link below and send a card to one of our Soldiers compliments of the Xerox Corporation. It doesn't take but a minute, the cards are made from Children around the country, pick one, pick a preselected message and they will do the rest. http://www.letssaythanks.com
I did get out and ride on Saturday, wasn't as nice as it was supposed to be, actually I woke up and it was drizzling out. i showered and put the gym clothes on and then...the Sun came out. Off came the gym clothes, on went the leathers and that's the rest of the story. (sounds like Paul Harvey). Yeah, so Chev let the Kat out of the Bag, Birthday is January 26th, 48 years old this month, wow, that sounds fuckin' old. I remember when my Mother was 48 and it seemed so old. But I guess I am old since I have a daughter who is 30. There is some truth to things get better as you get older, I wouldn't want to go back to where I was at 25 for anything. This is also my 21st year of being Drug Free and that's something in itself. Still like my cigs, still like a beer or a glass of wine now and than, but the illegal substances are gone forever. I want to congratulate my sister (and Hellkat sister) Powder for her 8 months of sobriety. The name Powder has nothing to do with her addiction, hers is Alcohol. She watched me struggle with my own addiction's and I have watched her for the past 30 years and she is clean and sober for the first time and I am so PROUD of her. I know that it's a day to day thing and I would personally like to thank everyone that is involved in an AA Program as far as sponsors Etc. for being there and giving the Support, you are making a difference in her life. I love you Vick and we're going to beat this thing this time, Love you,your Sis CG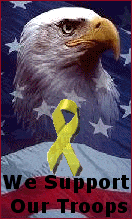 Friday, 5 January 2007
So 2007 has arrived. It's 30 years ago this month that I bought my first Motorcycle. I stayed home New Years Eve, but the OM and I went for a nice ride on New Years Day, it wasn't to chilly, about 45 out. I could only assume that there were a lot of hung over people because the roads were empty. I'm going to get out tomorrow, it's supposed to be high 40's, 50's on Sunday, but I have to go to the dojo early Sunday morning and workout. The way the workout's have been going the past two week's, I'm whipped when I get through and I'd proably fall off my bike if I were to ride it in to the city, so tomorrow will be the pick day of the weekend. Our Spring like weather is supposed to come to an end next week, I have to get the OM's bike in for a recall and it's still suppose to be about 44 on Monday, so that would be the day to get er' dun. Thanks Chev for the early Birthday Greeting, it's near the end of the month. Have a great week, CG
Saturday, 30 December 2006

I had a fantastic Christmas. I made it up to Chicago on the 22nd and did a little celebrating there. The next day I went to spend a few days with my sister Powder. Christmas I made it to my Mother-in-laws and spent the afternoon with all the family there. I left out on the 26th and headed to Minnesota. I decided not to stay until New Years, that I would like to be home with my family this year, the past few years I spent with Skat and it just wouldn't be the same up there without her this year. I'd like to say thankyou to Powder and BFJ for making my Christmas a little brighter this year. If your going out to do any New Years celebrating, PLEASE get a designated driver or call a cab. I want to hear from all of you again next year, there has been to much pain and loss in 2006, let's not have a repeat in 2007. CG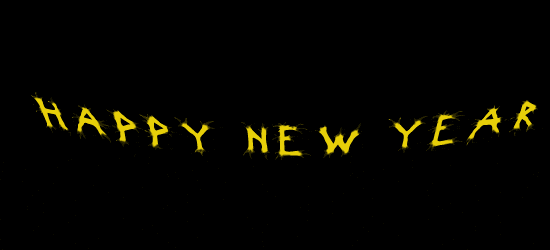 Tuesday, 19 December 2006
MERRY CHRISTMAS!!!!
It's hard to imagine that a whole year has come and gone already. The hardest thing's for me this year were losing my Father-in-law and my sister Skat. Many of you have had your own personal tragedy's, my heart goes out to you Foghat on the loss of your Father and to all the people that have lost loved one's over in Iraq. It's hard to explain to someone who has never lost anyone close to them the grief that you go through, know that I understand and the Holiday's won't be easy for any of you without the one's you have lost, but it will get easier with time.
Had a really nice ride on Sunday, it was so warm out, about 65 in the afternoon. The OM and I took off early and went and had breakfast, than rode down 55 to Perryville, cut over at Chester, MO. into IL. and took the river road back up, we knocked off a couple hundred miles plus. Not to much else going on other than going north this weekend with stop's in Chicago, Wisconsin and Minnesota. I'm driving my truck, this time of year would be foolish to try and ride a bike into WI and MN, plus I have a lot of present's and stuff to haul up there. I'll try and check in here if I can get to a computer between Christmas and New Years.All the best to all of you, CG
Wednesday, 13 December 2006
CAT AND BIRD TALE
Now everyone knows that cat's love bird's. I guess it was about five week's ago and I walked outside to see one of our barn cat's with a little Tit Mouse in her mouth. The bird was screaming for it's life and I'm sure a lot of you would say I should have just let mother nature do her thing, actually I figured the little bird didn't have a chance and sometime's just best to get the gun and put it out of it's misery. Well the cat just stood there and when I reached down she let go of the bird. Before I could catch it, it scattered under the holly bush's. So I'm down on my hands and knee's trying to catch the thing, it's still making noise and now it has attracted yet another one of my cat's. So it's war between the two cat's , the Tit Mouse and me, if the little guy only knew I was trying to help him out. I finally got a hold of him, just barely and he jumped out of my hand, fluttered across the ground and the other cat who had joined the bird hunt now had him in HIS mouth. I yelled his name and he actually dropped the bird and I scooped him up. This was a fiesty little guy, he was biting my hands and I was trying to see just how injured he was. His one little wing was sticking out, but than he drew it back up leading me to belive it wasn't broken. I knew he couldn't fly by all the missing feathers out of his wing and tail. I put him in a cage with some food and water and a heat lamp and set him out in the garage for the night. Next morning I was expecting the worse when I went out to look at him, but he was up on the water bowl and from all the droppings in the bowl, I could tell he had been eating. I knew he still couldn't fly and really wasn't sure about his wing so I drove him about 30 miles to the Wild Bird Rescue and when I got there, the building was vacant. I found out from the neighbor that they had relocated about another 25 miles north of there. I called and got directions and the bird and I were off to see if he could be saved. I left him there with the volunteer and I usually leave them a small donation because that's how they operate. I had pretty much forgot about the little guy until today when I got a phone call today from the sanctuary asking for directions to my house. The Tit Mouse survived and they were thinking of releasing him this weekend and since he was an adult, she said they like to release them back where they were found. I couldn't belive that they would drive the little guy all the way back here, but he's on his way this weekend. Kinda makes my Christmas a little brighter knowing that I gave this little guy a second chance, oh and I moved the bird feeders away from the house and hung them all up high in the tree's. Hope to get a pic of him, the one posted is what he look's like in case you never saw a Tit Mouse before. On another subject, hoping to get out tomorrow or at least by Friday for some riding, we were 65 today, but our drive was a mess. I spent a few hours on the tractor moving liquid cement off the drive, all the ice melted from the storms we had a week or so ago and the ground never had a chance to really freeze, so all the minus turned to liquid cement. I'm headed to IL, WI and MN for Christmas. It's going to be hard not to have my sister Skat here with me this year, but just going to MN makes me somehow feel closer to her in spirit. I'll be back here before I leave, CG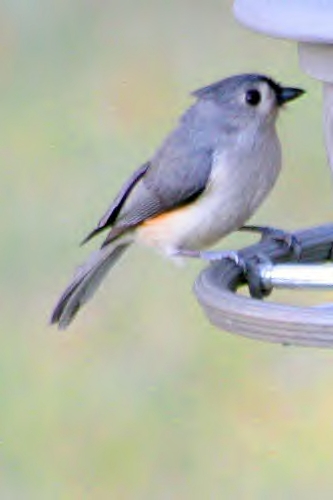 Monday, 27 November 2006
THANKSGIVING WEEKEND

What a great week of riding weather, 70's here all week long. Not much in the way of celebrating Thanksgiving here, I made a couple pies and that was it. The OM and me took off and ate dinner out at a Restaurant and than took a ride down to St. Genevive, MO. I took Hammer for my ride of the day taking into consideration that he'd be a lot more comfortable to ride after a huge dinner. But Saturday and Sunday were Cruella's big weekend, put about 500 miles on her. On Sunday I hooked up with Cat and she was on her new Big Dog she bought awhile back. I think we turned quite a few head's with her on the BD and me on Cruella. We had planned on doing a updated photo of the two bike's over at Falling Springs, but when we got there, the Springs just weren't looking so pretty this time of year. All the Tree's were bare and the water wasn't flowing to well either, so we'll do that Photo this Spring when it's nice and green. Speaking of green, would you please send me that "LEAF" impossed photo that was done last year or so that you mailed to me of Cat and I at the Springs? You know who you are and what the Photo was. I misplaced it somewhere and would like another copy of it. I have a feeling this may have been Cruella's last ride of the season. She is do for some new gaskets, they are starting to weep a little, nothing serious, but I don't like leaking or weeping. I hear Winter is moving in on Thursday this week so it might be time. Have a great week, CG
Wednesday, 8 November 2006
DID YA VOTE?

If ya didn't didn't get off your ass and go vote, don't bitch if your not happy with all the changes that are going to take place. This was not a Rep-Dem thing, this was about change for our Country and getting us back on track where we were. It sucks to see us in such a deficit when we were so far ahead before Bush came into office. I got a sense of pride after walking out of the polling place yesterday knowing that my vote could make a difference and it did. Congratulations to Claire McCaskill (DEM) for defeating Jim Talent in Missouri. We need change and we need it NOW. I'm not much into Politic's, but I know enough that this Country is screwed up and something's gotta give.Don't think you've been getting strung along the past month or so for the (REP) vote, go check the gas pumps this morning. They jumped here overnight from $1.92 to $2.19 a gallon, hmmm... think someone is a little pissed off?
I did good at my tournament this past weekend, took first in forms and also won Grand Champion in forms. Sparring, well.....you probably know already what I'm going to tell you. There was only three of us, one got a buy, she automatically got seated to fight off for 1st and 2nd place. I had to fight this really Tall, BIG girl and the judges were making horrible calls, I couldn't belive the scoring, they weren't seeing my combinations, and the clock was running and I was getting pissed with the scoring, so I let it rip to the head EXCESSIVELY, the white flags came up and circled, end of story.Indian Summer is back, 70's here the next two days and I'm sick with a head cold, go figure.I just found out that I'll be riding down to Florida in May for my Grandson's graduation, me and the OM are going to get to take a road trip together, it's been awhile, looking forward to the ride. That's two trips to Florida for me this year , haven't been back there since '93 or '94. Have a Great Week, CG