Monday, 28 May 2007
WEEKEND RIDES
I met up with Cat in Columbia,IL and we took a ride down route 3. Seem's everyone was already at their weekend destination's or on the Big Road becasue we had it all to ourselve's. We rode over to Marion and Carbondale and grabbed some lunch and than over to Giant City State Park. Took a break there in the Lodge and went on over to Devil's Kitchen Lake. After that it was over to Makanda to the Hippey Place. Found a new watering hole on the way called Rum Runner's, kind of off the main road, but easy to access. From there we went to Old Shawneetown. We booked a room through HogDaddy's Bar. You can getcha a room at the Shawnee Chief or the Flop house which is a block from Hogdaddy's, the Motel is about two miles away and they did have road blocks up checking for alcohol,but you need to call ahead as the Flop House was booked for the weekend. Sunday morning we made a visit to Cat's Parents home and than found a great restaurant around Murphysboro called Tippey's. After a good home cooked dinner and some carrot cake we cut back over to the River Road and parted ways at Chester, IL (home of Popeye). The sky was getting black and we both missed the rain. Monday I took Cruella for a ride into the city of STL. I guess I ended the month with about 6000 miles between the two bikes. I'll be training hard the next couple week's as my Karate Nationals are coming up June 15-17th.
Thursday, 24 May 2007
SAFE MEMORIAL WEEKEND TO YOU ALL

I had the best ride to Minnesota which made up for the rain and smoke earlier in the month. This wasn't a pleasure trip, rather another private funeral service for Skat who was finally laid to rest. Thanks to BFJ, Tanya and Renee for helping me through this once again. My ride home was even better, 600 miles is a breeze on Hammer. I got home on Monday and looked at my trip meter from the 4th of May I'm right at 5000 miles added to the odometer and I'm doing a little road trip Sat-Sunday, might bring it up to 5500 this month, maybe a little more or less. Brushogging tomorrow hopefully and Saturday morning, I'm out of here. Have a Safe Memorial weekend and I'll see you back here next week, CG
Thursday, 17 May 2007
WHERE HAVE I BEEN?????
My tournament went well, took 1st in Forms and Sparring, got both year end titles. next up was the new rear tire and fluids for Hammer, got that done. Left out on May 3rd in Rain all the way to Clear Lake, IA. That's about 450 miles from here. I was to meet up with some friends in the morning at Albert Lea. It never stopped raining and moring came and more rain. This was the same weekend that the tornadoes hit Kansas. My destination was Okoboji, IA at Spirit Lake. A couple of my sisters made it in that weekend, we had rain the entire time. We left out Sunday morning to yet more rain and high winds. LJ's windshiel blew off her bike and Powder's bike blew over at a gas station. I parted ways with them and rode 450 miles in extreme wind and rain and when the hail started, I got a room. I set my alarm for 5:00 AM and woke up to sunshine. 150 miles home and I pulled in the garage, said Hi to my critter's, swapped gear bags on my bike and me and the OM were off to Florida for a family event.Our ride to Florida was great, down there, well.....screw the Love Bugs. We were there about three days and when we left we got caught in the fires and they shut down the Interstate, took a 40 mile detour and ran along the coast and up through Mississippi. Had the best meal at Jack & Rips in Grenada, MS. Got home Monday night, drained all of Hammers Fluids, refilled him on Tuesday, got caught up on everything around here and I'm headed for Minnesota in the morning. I'll catch up with you when I get back, CG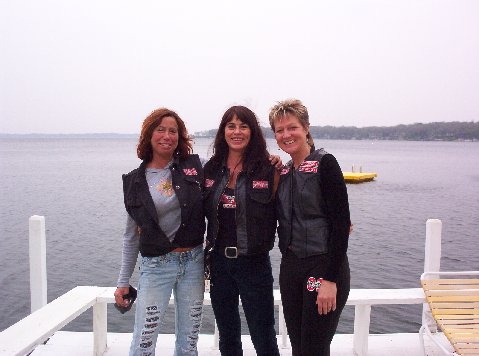 Thursday, 26 April 2007
BIKE BLESSING

We had really good weather for the Bike Blessing last week.A special Thank-you to Bob and Donna from the Tribe Of Judah MC for blessing Cruella for me. I have my last Tournament this weekend before our Big International Tournament in June. As of now it look's like I have won the Sparring and Forms again this year,even if I don't make this last tournament, no one can pass me up in the point standings in either division UNLESS there was an error made along the way so I'm going to make sure I secure the Titles one more time Hitting the road next week, I'll catch up with you along the way if possible. CG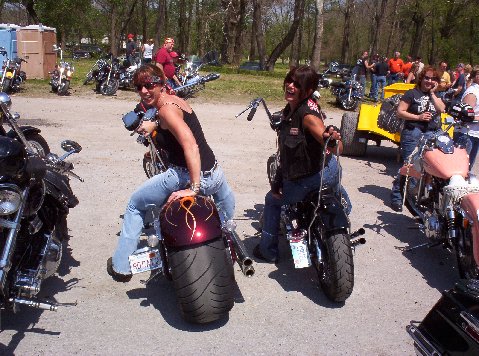 Friday, 20 April 2007
BUSY, BUSY
I have beeen so busy with Spring here. I've already had to mow this place twice and if it wasn't for all the rain we've had, I'd have probably done it even more. Cruella and Hammer have been seeing their share of the road especially with the gas prices back up so high. Hammer got another new rear tire and brake pads. He's set to hit the road here in less than two week's. I'm taking Cruella to the Bike Blessing at Falling Springs on Sunday. Than I have a 1200 mile ride the next week, get home on Sunday night, reload the bike and off to Florida for a few days for a family event. Not sure which way we will ride back, might run up the East Coast, maybe run the southern border, no set plan. I'll have a two day rest period to get things back in order around here and to spend some time with the critter's and than up to Minnesota. Life is Good! Have a Great week, CG
Sunday, 1 April 2007
CRUELLA
We couldn't have asked for a nicer day for the Bike Show at TJ's Bar in Pevely, MO. today. Breezy, Sunny and low 70's. The OM took a ride over there early afternoon. I have to say I was very proud of my "Girl" today. I had everything set and timed just purrfect and she was running like a Kat outta Hell. Maybe it was her new kicker pedal, I don't know, but she insisted on one kick starts everytime for the past few days.Have a great week, CG
Thursday, 29 March 2007
BIKE SHOW

Way to much fun in Minnesota this past weekend, but it was also a lot of work. My sister's Vicki and LJ and I had the opportunity to visit with alot of old friends as well as new. thaks to all the Hellkats supporter's who stopped by to visit us. I fired up Cruella today and all I have to do tomorrow is tighten the chain, check the air and give her a Spring bath. There is a local Bike Show this Sunday at TJ's in Pevely, I'm not going to enter the show, but I'm going to go up there for some local socializing. Have a great week, CG
DONNIE SMITH BIKE SHOW PHOTO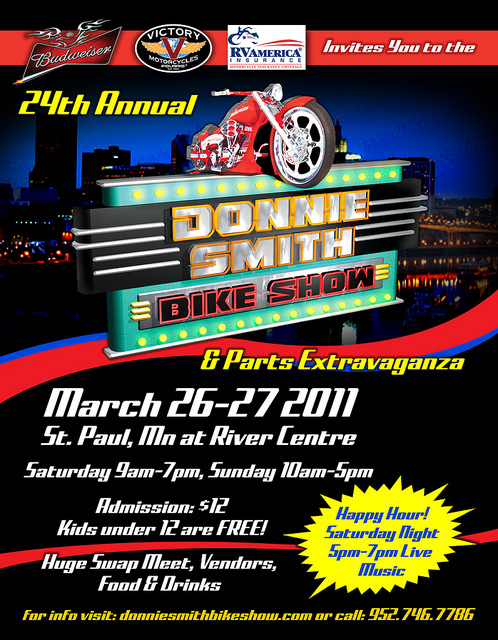 Wednesday, 21 March 2007
SPRING HAS SPRUNG!!!

We topped the 80 degree mark here today. The flowers are blooming and I played hooky and went for a great ride. I didn't ride to Chicago as planned last weekend, instead I took the truck, first time I've been up there on St. Pat's weekend without the bike. But if was cold and snowflakes were flying, next month should be better. The spider bite healed up real good, took two week's but you can't even see the spot unless you were lookin' for it. I'll be headed to Minnesota this weekend for the Donnie Smith Bike Show in St. Paul. We'll have some of the new Hellkat Support Stuff with us, so look for us when you get there. The new shirts are also available on the Hellkats Website. Enjoy the weather and have a great weekend, CG
Sunday, 4 March 2007
SPIDERS

I woke up yesterday with an aching pain on myleft shoulder blade. I took a look in the mirrior and it was swollen and red and my first thought was Brown Recluse. We are known for Brown Recluse in MO. and they get their name Recluse because they like to hide in stuff, so the odd's of geting bit while your sleeping are pretty rare. I pulled back the bed covers and looked around but didn't find anything. I'm not sure how many days it takes for the sore to develope, but two nights prior I went out to the mud room and grabbed a raincoat to run up to the barn that had been hanging since last summer under my Carhardt's. The first coat I grabbed had a Mud Dabber nest built in it, so I grabbed another one , checked for nest's, but not for spiders. There may have been one nestled in there for the winter since they can go six months without eating. I know enough that these are horrible spiders to get bit by and I wasn't taking any chances, so I took myself to the emergency room. The diagnosis was definitely a spider bite, but what I didn't know is there is no cure for a Brown Recluse. The only thing they can do is put you on antibiotic's and you have to wait until the bite is done eating your flesh away and than if it's bad enough, a skin graph. Today is day two and it's very red and swollen and I'm hoping that the round spot I see doesn't develope into a blister, if it does, than I need to be concerned. I have been bitten by spiders before, but have never had a reation like this. So I'm on some heavy duty antibiotics. I should know in the nesx day whether or not it's the dreaded Brown Recluse. No riding this weekend, high of 26 yesterday and I have Karate today, but I did get another ride in this past week, had to drop off the OM's bike for a handlebar recall on the Dyna. They are telling us that we are in for a big warm up this week, I sure hope so. I have my first real ride of the Year on the 16th and I'm headed to Chicago, so I'm hoping the snow will be gone by than. Have a great week, CG
Friday, 23 February 2007
FINALLY!!!!!

I finally got out for a ride on Wednesday, big mistake because I was just getting over a cold and kicked it back in and was feelin' like crap yesterday. I didn't ride far, just 100 miles to the city and back, but it sure felt good. The streets were still a mess, never did get the rain we were supposed to get. It's supposed to be nice tomorrow, but I think I'm going to have to skip the riding so I can go to my Sunday Workout, I had to bow out early last night because I wasn't feeling well. My condolence's to "Rude" on the loss of her grandfather. Have a great weekend, enjoy the sunshine and most of all be safe! CG
Monday, 19 February 2007
MARDI GRAS IN STL
Can't make it to Mardi Gras in New Orleans? Than come to St. Louis for a day. The Mardi Gras celebartion starts off in the morning with a parade and contines throughout the day in Soulard where the streets are closed to traffic and it's open container from bar to bar. It was colder than usual, so we left the bikes home, still a lot of ice on the streets. The cold didn't stop the people from coming out and there were beads a plenty. I think winter is over here for us, we're back up in the 60's all week and with some rain forecast for tomorrow, hopefully it will wash the streets clean of all the sand and salt. I will be out on my bike by Wednesday, it's been at least a month now or close to it.Have a great week, CG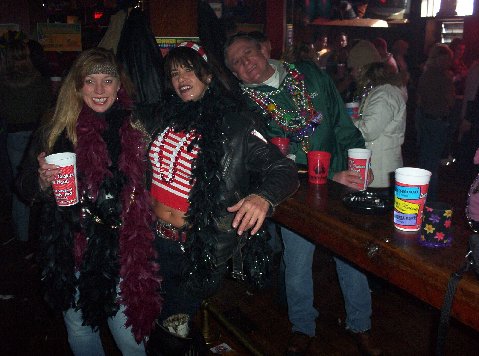 Thursday, 15 February 2007
BRRRRR.....IT'S COLD!!
I think were all feeling it, my heart goes out to eveyone out East, especially everyone in New York. the 1-2 inch's we got here makes me feel guilty. Granted, it was nasty and cold and I spent an entire day out on the tractor removing all the slush off the roads and drives before they froze and the so called "Snow" came, but when the Hell is it going to end for all of you in the northeast? Than we have the Tornado that hit New Orleans, those of us that have a roof over our heads with heat should be thankful for all we have. Just a reminder, I don't litter unless it's edible food for the critter's. So if your in one of those snow covered area's and you happen to be one of the few that DON'T normally litter, if you have a bit of your sandwich left, or a couple of fries in the bottom of the bag, before you toss it in the trash, throw the edible part out to the birds and animals that need to find food right now. Also, birds love cat food and it's cheaper than bird seed, so if you put some out for the cat's, put a little out somewhere else for the birds, they'll apprciate it.I'm going down to the city this weekend for the STL Mardi Gras, never been there before, we were going to ride, but do to the weather, we'll be going by truck. Stay warm, check on your neighbor's and relative's and well see each other down the road real soon, CG
Tuesday, 6 February 2007
SUPERBOWL
Well Superbowl didn't turn out the way I had hoped it would, but congrats to everyone in Indy. I don't think there was anywhere in the midwest that wasn't frozen over the weekend, brrrr......it was cold up in Chicago. I forgot what the winters in the Great Lakes can be like and this past weekend was a good reminder. I had a really good weekend and came home with a cold. The weather man screwed up again because we were in the high 50's today, the OM said it was 61 on his way home today. I'm hoping we get some more of that this weekend. The Wide Open Bike Show is this weekend in St. Charles, MO. and I will make it over there, just would be nice to get the bike out and be able to ride instead of drive, at least 40's anyway.Have a great week, CG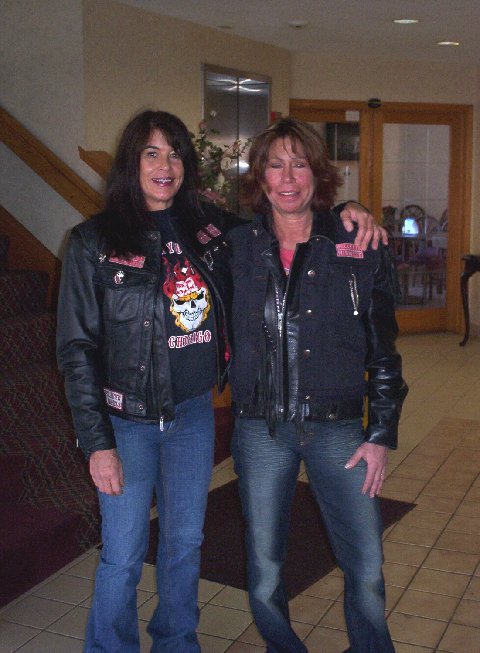 Wednesday, 31 January 2007
FLORIDA TOURNAMENT
Florida pretty much sucked. we had one day of warm weather and the other two days it was in the 50's. I did manage to get out and get some Sun one day when it got up in the 70's only to be attacked by ant's on the beach, so I made a break for the kiddie pool and hopped on the Pirate ship. I saw a really nice '64 pan at the HD dealer down there, very , very nice(pic below). The turnout was small at the tournament, I was disappointed to go all that way and have not much for competition. I went home with a 1st in forms and a 1st in sparring. Next year maybe I'll try the US Open in Orlando, I have family there and that was the highlight of my trip, I got to see them. I'm headed to Chicago this weekend for the Superbowl. Catch up with ya when I get back, CG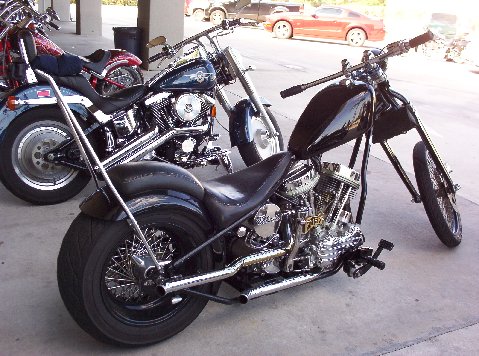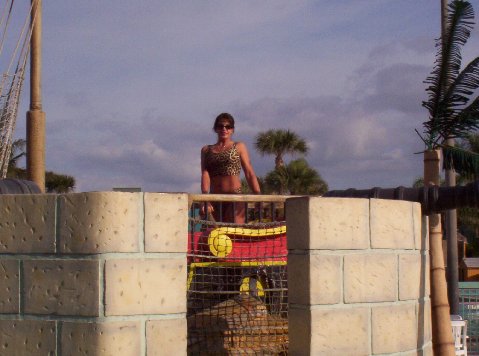 Sunday, 21 January 2007
CONGRATULATIONS TO THE CHICAGO BEARS!