Monday, 30 June 2008
4TH OF JULY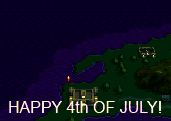 I didn't do so well at the International tournament this year. I made a huge mistake in my kata, made something up, got through it, but the damage was done. My fighting didn't go to well either, won the first fight and second fight gave up a point for excessive contact and she ended up beating me by that one point before time ran out, I finished third overall. My three students did well,walked away with two first's, a 4th and a fifth place and they are all beginner's. We attended the award's banquet the night before, I was given two plaques for second place overall for the year in Forms and Sparring, more than I expected since I didn't get to compete much due to the shoulder surgery. I will be going to CA in a few week's to compete out there. This weekend I'm riding up to Wisconsin, than over to MN and then down to Algona, IA. for the Freedom Rally. Please be safe and remember all those who served our country. CG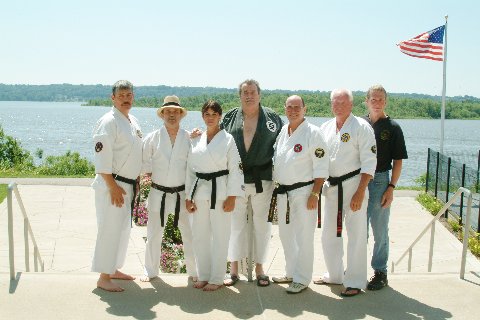 Sunday, 8 June 2008
NO MORE POLITICS

I know I have been on the politic's to much the past few month's , but I am so over the bullshit after watching and listening to the DNC meeting last week that I will still vote this year and it will be for JOHN MCCAIN and that's the end of this topic at least until election time. With the rising cost of gas my truck sit's pretty idle these days except for a biweekly trip to the feedstore and grocery's. I took a ride to MN for the Memorial Day weekend and we made a stop at the Bond Slaves party and we had our bikes packed with tent's and sleepings bags, no real set destination, just ready to setup camp when and where we felt like it. Got ready to leave the Bond Slaves and head east to another getogether and I started my bike and as soon as I put it in gear it died and I lost all power. My dash and everything went completely dead. My first instinct was the battery ground. I unpacked the entire bike, pulled the seat and the ground cable was a little loose and sure enough the power came back. Thought that was it, loaded it all back up, hit the button and it went dead again. I do have a volt gauge and I know it was charging correctly when I turned it off. So we pulled it all apart again, pulled the bags,side covers and started looking for a bad wire something. Nothing. Next thing you know, power is back. I rode it around the area a bit and nothing would shut it down so we we loaded him up and took off. What I needed was a volt meter to check the battery itself, but none to be found. We crashed the night at a private party, stayed lazy all the next day and I headed home on Monday, well almost. I was barely out of Minneapolis and my bike shut off going down the road, then kicked back on. Since it was Memorial Day, all the dealerships were closed and it is inder warranty. I made a few phone calls and found out that one was open back about 30 miles for a few hours with limited service so I headed back since I knew I wasn't going to make it home. I told them the sympton's, told them that even though my charging system was working, it was like all my power was being cut off from the battery. They pulled the fairing apart,pulled the bags and covers, ran computer check and no error codes. I must have been there 2.5 hours and they finally took it for a ride, came back and told me they couldn't find anything,and of course he wouldn't act up for them. I'm like what the fuck am I supposed to do, get back on the road and get stranded in the middle of Iowa? They were looking at me like I was some stupid chick that was making this shit up and I stood there and hit my start button a few times and on the third time it went DEAD! I was like Hah, I told you so. One of the techs that was working in a different room yells out, that's the battery! I never knew that they never bothered to check the battery itself in that 2.5 hours, I just assumed they would, not! They put the meter on it it and it was drawing zero! The plates inside was broke, that's all it was and since it wasn't warranty on the battery, it cost me $182.00 to finally get back on the road. They asked if I wanted them to put it in and I was like am I going to get charged for this, well yeah at least half hour labor now, and I'm like, well then stick it in. I didn't make it all the way home that night, I rode until dusk and smart move to get a room because there were more storms on the way overnight. I spent the last week cutting the pasture's, got a good tan started. This coming weekend is my big International Tournament and awards banquet. I didn't get to compete much because of the shoulder surgery but I still managed to squeeze out second place in kata and sparring overall for the year end awards, so I will have put on the yearly dress and go to the awards banquet. Actually, I don't mind at all getting dressed up once in awhile. I'm planning on making the Freedom Rally over the 4th. Have a great week, CG
Friday, 16 May 2008
I'm Back

I got a letter the other day from a friend and was asking if everything was OK here since I hadn't posted in awhile. I've been real busy around the property with keeping all the yardwork done and my neighbor had a stroke so I have been helping out his wife doing their yard work too and these ain't little yards! Also had a death in the family that was totally unexpected. Got both the bikes inspected and liscensed for another two years. I picked up a "S" hook off a black rubber bungee cord last week in my rear tire on the bagger. Been really working hard for the International tournament in June, going to a local tournament tomorrow for a tuneup session. Then it's riding the rest of the weekend, 80's here Sat and Sunday. Memorial weekend I will be heading to MN for the Bond Slaves party. I have consumed myself in this election this year, MSNBC is such a suck ass for Obama it makes me sick. If I so much as hear his voice on the TV, I have to change the channel. The democrats have spoken as to who they want for their canidate and it ain't that racist pig, but it doesn't matter, they are stuffing him down our throats. He need's to take his racist wife and get the fuck out of America and go to one of his Muslim supporter Country's. There are so many people that don't watch cable news or follow the politic's, they just look at the fake smile and think, man, he's God or something. Please take the time to read what I have posted below. Have a great week, CG
This is the Laundry list of Obama lies, if you read these and you still vote for Obama, you are a fool.
1.) Selma Got Me Born - LIAR, your parents felt safe enough to have you in 1961 - Selma had no effect on your birth, as Selma was in 1965. Source: hotair.com
2.) Father Was A Goat Herder - LIAR, he was a privileged, well educated youth, who went on to work with the Kenyan Government. Source:
http://www.godlikeproductions.com/forum1/message504435/pg1
3.) Father Was A Proud Freedom Fighter - LIAR, he was part of one of the most corrupt and violent governments Kenya has ever had Source:
http://atlasshrugs2000.typepad.com/atlas_shrugs/2008/01/obamas-oginga-o.html
4.) My Family Has Strong Ties To African Freedom - LIAR, your cousin Raila Odinga has created mass violence in attempting to overturn a legitimate election in 2007, in Kenya. It is the first widespread violence in decades. Source:
http://atlasshrugs2000.typepad.com/atlas_shrugs/2008/01/obamas-oginga-o.html
5.) My Grandmother Has Always Been A Christian - LIAR, she does her daily Salat prayers at 5am according to her own interviews. Not to mention, Christianity wouldn't allow her to have been one of 14 wives to 1 man. Source: According to NYTimes story of April of last year, Sarah Hussein Obama told the New York Times she is a devout Muslim.
6.) My Name is African Swahili - LIAR, your name is Arabic and 'Baraka' (from which Barack came) means 'blessed' in that language. Hussein is also Arabic and so is Obama.
7.) I Never Practiced Islam - LIAR, you practiced it daily at school, where you were registered as a Muslim and kept that faith for 31 years,until your wife made you change, so you could run for office.
8.) My School In Indonesia Was Christian - LIAR, you were registered as Muslim there and got in trouble in Koranic Studies for making faces (check your own book).
9.) I Was Fluent In Indonesian - LIAR, not one teacher says you could speak the language.
10.) Because I Lived In Indonesia, I Have More Foreign Experience - LIAR, you were there from the ages of 6 to 10, and couldn't even speak the language. What did you learn, how to study the Koran and watch cartoons.
11.) I Am Stronger On Foreign Affairs - LIAR, except for Africa (surprise) and the Middle East (bigger surprise), you have never been anywhere else on the planet and thus have NO experience with our closest allies.
12.) I Blame My Early Drug Use On Ethnic Confusion - LIAR, you were quite content in high school to be Barry Obama, no mention of Kenya and no mention of struggle to identify - your classmates said you were just fine.
13.)An Ebony Article Moved Me To Run For Office - LIAR, Ebony has yet to find the article you mention in your book. It doesn't, and never did, exist.
14.) A Life Magazine Article Changed My Outlook On Life - LIAR, Life has yet to find the article you mention in your book. It doesn't, and never did, exist.
15.) I Won't Run On A National Ticket In '08 - LIAR, here you are, despite saying, live on TV, that you would not have enough experience by then, and you are all about having experience first.
16.) Present Votes Are Common In Illinois - LIAR, they are common for YOU, but not many others have 130 NO VOTES.
17.) Oops, I Misvoted - LIAR, only when caught by church groups and democrats, did you beg to change your misvote.
18.) I Was A Professor Of Law - LIAR, you were a senior lecturer ON LEAVE.
19.) I Was A Constitutional Lawyer - LIAR, you were a senior lecturer ON LEAVE.
20.) Without Me, There Would Be No Ethics Bill - LIAR, you didn't write it,introduce it, change it, or create it.
21.) The Ethics Bill Was Hard To Pass - LIAR, it took just 14 days from start to finish.
22.) I Wrote A Tough Nuclear Bill - LIAR, your bill was rejected by your own party for its pandering and lack of all regulation - mainly because of your Nuclear Donor, Exelon, from which David Axelrod came.
23.) I Have Released My State Records - LIAR, as of March, 2008, state bills you sponsored or voted for have yet to be released, exposing all the special interests pork hidden within.
24.) I Took On The Asbestos Altgeld Gardens Mess - LIAR, you were part of a large group of people who remedied Altgeld Gardens. You failed to mention anyone else but yourself, in your books.
25.) My Economics Bill Will Help America - LIAR, your 111 economic policies were just combined into a proposal which lost 99-0, and even YOU voted against your own bill.
26.) I Have Been A Bold Leader In Illinois - LIAR, even your own supporters claim to have not seen BOLD action on your part.
27.) I Passed 26 Of My Own Bills In One Year - LIAR, they were not YOUR bills, but rather handed to you, after their creation by a fellow Senator, to assist you in a future bid for higher office.
28.) No One Contacted Canada About NAFTA - LIAR, the Candian Government issued the names and a memo of the conversation your campaign had with them.
29.) I Am Tough On Terrorism - LIAR, you missed the Iran Resolution vote on terrorism and your good friend Ali Abunimah supports the destruction of Israel.
30.) I Am Not Acting As President Yet - LIAR, after the NAFTA Memo, a dead terrorist in the FARC, in Colombia, was found with a letter stating how you and he were working together on getting FARC recognized officially.
31.) I Didn't Run Ads In Florida - LIAR, you allowed national ads to run 8-12 times per day for two weeks - and you still lost.
32.) I Won Michigan - LIAR, no you didn't.
33.) I won Nevada - LIAR, no you did not.
34.) I Want All Votes To Count - LIAR, you said let the delegates decide.
35.) I Want Americans To Decide - LIAR, you prefer caucuses that limit the vote, confuse the voters, force a public vote, and only operate during small windows of time.
36.) I passed 900 Bills in the State Senate - LIAR, you passed 26, most of which you didn't write yourself.
37.) My Campaign Was Extorted By A Friend - LIAR, that friend is threatening to sue if you do not stop saying this. Obama has stopped saying this.
38.) I Believe In Fairness, Not Tactics - LIAR, you used tactics to eliminate Alice Palmer from running against you.
39.) I Don't Take PAC Money - LIAR, you take loads of it.
40.) I don't Have Lobbysists - LIAR, you have over 47 lobbyists, and counting.
41.) My Campaign Had Nothing To Do With The 1984 Ad - LIAR, your own campaign worker made the ad on his Apple in one afternoon.
42.) My Campaign Never Took Over MySpace - LIAR, Tom, who started MySpace issued a warning about this advertising to MySpace clients.
43.) I Inspire People With My Words - LIAR, you inspire people with other people's words.
44.) I Have Passed Bills In The U.S. Senate - LIAR, you have passed A BILL in the U.S. Senate - for Africa, which shows YOUR priorities.
45.) I Have Always Been Against Iraq - LIAR, you weren't in office to vote against it AND you have voted to fund it every single time, unlike Kucinich, who seems to be out gutting you Obama. You also seem to be stepping back from your departure date - AGAIN.
46.) I Have Always Supported Universal Health Care - LIAR, your plan leaves us all to pay the 15,000,000 who don't have to buy it.
47.) I Only Found Out About My Investment Conflicts Via Mail - LIAR, both companies you site as having sent you letters about this conflict have no record of any such letter ever being created or sent.
48.) I Am As Patriotic As Anyone - LIAR, you won't wear a flag pin and you don't put your hand over your heart during the Anthem.
49.) My Wife Didn't Mean What She Said About Pride In Country - LIAR, your wife's words follow lock-step in the vein of Wright and Farrahkan, in relation to their contempt and hatred of America.
50.) Wal-Mart Is A Company I Wouldn't Support - LIAR, your wife has received nearly a quater of a million dollars through Treehouse, which is connected to Wal-Mart.
51.) Treehouse Is A Small Company - LIAR, the CEO of Treehouse last year, made more than the CEO of Wal-Mart, according to public records.
52.) University Of Chicago Hospital Pay Is Fair - LIAR, your wife's pay raise was nearly 150% her already bloated rate and the hospital is a Non-Profit Hospital, which made $100,000,000 in the last 3 years. They overcharge blacks VS whites for services, and overcharge everyone in general by 538%!
53.)I Barely Know Rezko - Only 5 Billed Hours - LIAR, you have known him for 17 years, and decided to do a real estate deal with him during a time when he was proven to be under investigation. Despite this, you divided your property and had them take off $300K before the mortgage problems started. Then Rezko's wife buys the lot beside it that you can't afford, saving you $625,000.
54.) My Donations Have Been Checked Thoroughly - LIAR, you only gave back Hsu ($72K) and Rezko (first $66K, then when caught lying $86K, then when caught lying again $150K and now caught lying YET AGAIN OBAMA, it's $250k) their money when publically called on their involvement in your campaigns.
55.) My Church Is Like Any Other Christian Church - LIAR, your church is so extreme, the pastor who married you, Rev. Wright, just got done blaming the US for 9/11 and named Louis Farrahkan their person of the year.
56.) I Disagree With My Church All The Time - LIAR, you still have yet to repudiate Wright, who married you and your wife, and you still donate large sums of money to assist the church in furthering its message - hatred and revenge. You donated in 2006 alone, $22,500 to the church that you so terribly disagree with. That is nearly $500 PER WEEK - that sure is disagreement, Senator Obama.
57.) I Have Clean Connections Despite Rezko - LIAR, you are not only connected to Exelon and Rezko, you are also connected to Hillary PAC supporter Mr. Hsu, AND an Iraqi Billionaire of ill repute, Nadhmi Auchi, who ripped off people in the Food For Oil, Iraqi deal. Seems Mr. Auchi may have helped Obama buy his million dollar property long before Obama had millions of dollars. Wonder what favors Mr. Auchi expects, when Obama leaves Iraq free to be taken over by special interests such as him.
58.) I never heard sermons like Rev. Wright's, that have been in videos all day, You Tube - LIAR! 3 days later during your Mea Culpa BS speech you said "Did I hear controversial statements while I sat in that church? Yes I did."
59.) The Passport Invasion is a conspiracy to find dirt on me! - LIAR. Your own Campaign Foreign Policy Advisor is the CEO of the company that looked into your records. PS - You had them look into yours to hide the fact you looked into Clinton's and McCain's more than a year before!
60.) Rev. Meeks has nothing to do with my campaigning - LIAR. Rev. Meeks appeared in ads for your Senate Campaign, donated to you, and helped raise money, then AND NOW. PS - He also seems to despise America.
61.) My wife didn't mean America is ignorant, she was just using a phrase - LIAR. Again, MicHELLe's comments perfectly sync with Wright's, Meeks', and Farrakhans, both in language, anger, and direction.
62.) I am very Anti-Terror - LIAR. [03/30/2008] One of your good pals is long time radical and terrorist William Ayers, with whom you have been seen in the last 12 months and who has helped the now jailed khalidi, Professor at Columbia who invited Ahmadinejad to the University, to raise money for Palestinian terrorism attacks against Israel. PS - Your church published a pro Hamas Manifesto - guess you weren't there on THAT Sunday either? How lucky for you.
Friday, 11 April 2008
OBAMA'S LATEST BULLSHIT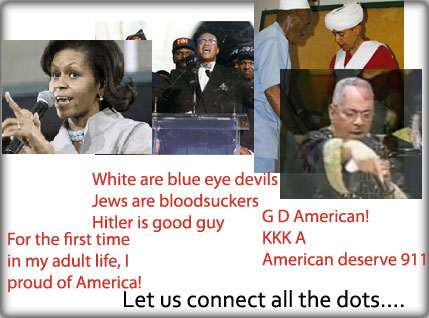 So in case you haven't heard the latest bullshit coming from Obama, one of his own supporter's came forward and released his speech he was giving to a bunch of WEALTHY people in San Francisco and he put down the working class and unemployed people in PA and generally speaking probably every one of you that is reading this. Smart Move Dickhead right before the PA elections. People all over the country want to take back their votes. The only media that gives the real facts is the FOXNEWS channel, they aren't kissing his ass like the rest of them. For some good reading check out http://www.townhall.com
Monday, 7 April 2008
BIKE SHOW MN

I attended the Donnie Smith Bike Show the weekend of March 29th in St. Paul, MN. The Hellkats shared a booth with the MN HA with our support gear. Big thank-you to the MN HA for allowing us to work with them once again, love you guys! I decided to put my effort's this weekend into getting Cruella back up and running. My OM snapped a pic of me Saturday morning in my Kitty Kat PJ's and slipper's putting the tranny back together. It's been awhile since I pulled the magneto out and did point's etc. , but it needed to be pulled because it sits to close to the cylinders and you can't get a screwdriver on the back side to get the wire's off for the condeser etc. So I did all this and I guess I missed the stroke when I lined up the timing mark and I kicked and kicked and than I started getting mad and quit for the day. Today I went back out and pulled everything apart AGAIN and started over and I still don't have something right, but I'll get it. No one else has wrenched on her in the past eight years except me and I plan on keeping it that way, so she is on hold until Wednesday when I have some free time. It's best to quit when you feel yourself losing your patience. I did manage to get up early on Sunday morning and ride Hammer to the dojo and workout while most of STL was either at Cadilac Jack's for the Bike Blessing or at TJ's for the bike show. When I got back I drained his fluid's while he was nice and warm and fooled with Cruella a bit. I have some very important tournament's coming up in the next few month's and training is crucial right now since all my down time. I have the Big International's in June and than in July we are going to an Invitational in CA. I've got two kinda local tournament's this month for practice. The Hellkats will have their new support gear up on their website later this week, please check it out.The picture's posted below are as follows:
DONNIE SMITH BIKE SHOW 1&2 and TRANNY PJ'S AND TODAY'S MESS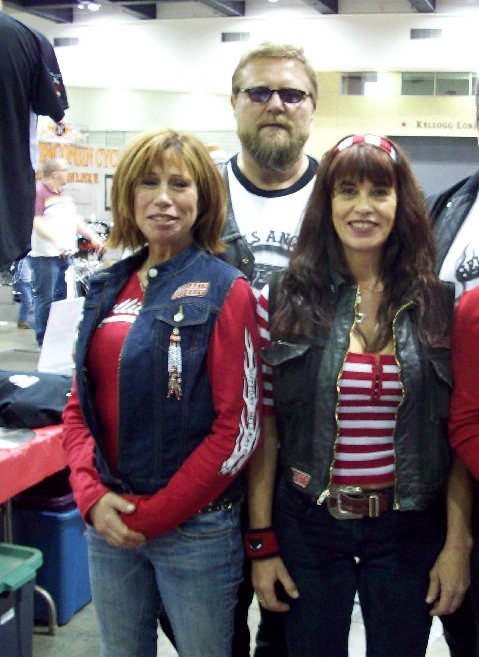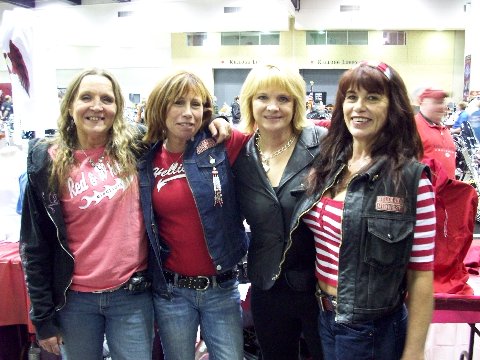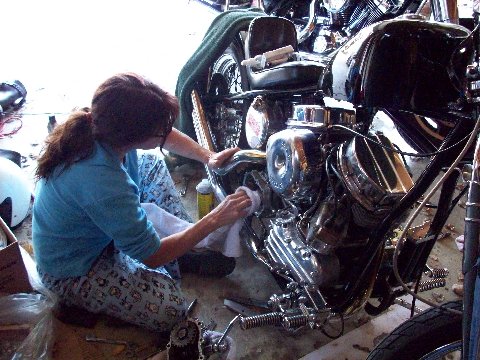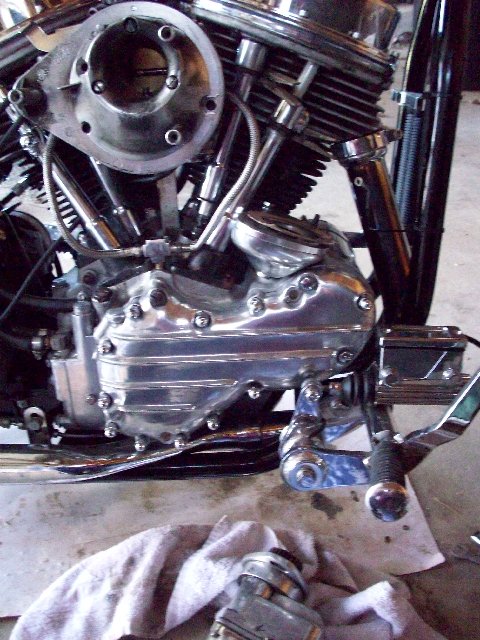 Monday, 17 March 2008
EXPOSED!

http://answers.polldaddy.com/viewPoll.aspx?view=results&id=430599
And so by the evening that I wrote my last post, they FINALLY exposed Obomba for who he really is. ABC, CBS, NBC, gave you about a 10 second bite of the film clips from Jerimiah Wright. This is the fuckin' media that most American's watch...however, the cable news have exposed this racist pig for what he is. The latest polls are showing buyer's regret, but... if you have a reciept you can get your money back and that's just what they are doing.Obomba is so done! He spoke very carefully when adressing Jerimiah Wrighty saying he never sat in the pew when these exact words were spoken, however....20 years in the church and he never once heard any of these racist remarks against not only the white population, but America as a whole. FUCK YOU OBOMBA! When asked if he would sing GOD BLESS AMERICA , instead of answering YES, he paused and paused again and said"well not right now", how bout a simple Yes? You people that voted for him should be ashamed of yourself whether you are White, Black, Hispanic, Asian, It doesn't matter, when it comes to something as important as picking a leader for our country, you should take a little time and really look into the canidate you are voting for BEFORE you make a decision based on media hype.The polls and blogs are showing that he is done, so much regret and they are all saying if I would have only known BEFORE the primary's, before the caucase's, I wouldn't have given him my vote. I take my vote very seriously and I have spent numerous hours on line, watching news because I want what's best for our country,so if he get's the nomination , which right now look's like next to impossible, blame yourself , no one else.Tonight, Fox news Greta Van Susteren invited both spouse's to her show, Bill Clinton accepted and he was in New Orleans with Brad Pitt helping rebuild Katrina, Obomba's wife declined an interview. Gee, very easy when you have the floor to tell American's what a piece of shit our country is, but when it comes to an interview where you are asked question's and can't make racist , hateful statement's, you decline. You had your chance, now go back to your church and ask God for mercy on yours and your husband's pitiful soul's and may you rot in HELL! Or maybe you could find assylum with reverend Wright, we here he fled the country and is hiding out in Africa, how convenient for your campaign.
Back to Bike's and things.I took two of my student's to a tournament this past Saturday and they did so good. They are both beginner's. mother and daughter. We walked out of there with six trophys. I competed, wasn't quite ready and against doctor's order's, lost my first match in sparring, was outside and wasn't ready when they called us to the ring, my fault, won my second fight. Not to good in form's took third place, I didn't feel 100% and I didn't feel like I even deserved that placing.Sunday I took Hammer out to try and find a gasket for Cruella's tranny, no luck, so she's still on hold till I can get to the city. Have a Great week, CG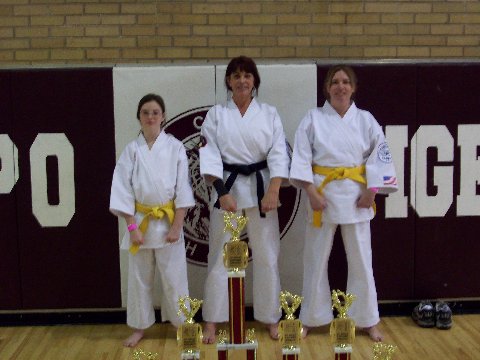 Thursday, 13 March 2008
RACISM AND POLITICS

Thumbs Up to Geraldine Ferraro for finally getting the message out there. This now IS about race.Back in October, Clinton had about 70% of the black voters, now Obama has 90%. Why is it if your white anything you say negative about o-BOMB-a is racist? Why is that the Media will not confront him with all his racist friends and aquaintances? Did any of you hear the news clip from his pastor in Chicago saying "GOD DAMN AMERICA, GOD DAMN AMERICA and other statements saying a "WHITE HILLARY CLINTON"? If that's not racist, I don't know what is and OBOMBA's fuckin' wife is just as bad.What about his friend in the World Underground,William Ayers who declared War on the US? What about the close relationship with his preacher that gave FaraKKKan a Lifetime achievement award? Yet OBOMBA will not denounce either of these two guys, he was married by this pastor, has been a member of the Church for 20 years( although i still belive he has a lot of Muslim hiding in that suit), had his children baptized there, whom by the way, their motto is Unashamedly Black. Can you imagine if Clinton or McCain went to a Church that said Unashamedly White? Obomba himself said he titled his book after his pastor, his so called spiritual leader, his mentor Jeramiah Wright.He re is the link to the video news clip and you'll find some windows below it that also have this pastor of his showing HIS true Color.http://news.aol.com/political-machine/2008/03/13/obamas-pastor/?ncid=NWS00010000000001
I would hope to think that I'm not alone here with the people that visit this site. I guess I'm watching way to much of the political news these days, maybe I'm the only one. You need to watch some CNN or FNC and you'd know what is really going on.I have never really claimed myself to be a democrat or republican, I vote for who I think can do the best job. I don't give a damn about what the Clinton's did in their private life, my life was good, your life was good. McCain seem's to have only one thing on his list of things to do and that is win this war, I would like to think that he would bring something else to the table that would give our country some hope of pulling out of this recession and if you didn't know it, we have been in one for the past four months. 55,000 Americans are losing there homes every month. We can blame this all on the Bush administration and he has left alot of us afraid to even consider another Republican in office as our President.But now McCain is taking back what he promised on cutting taxes, he got his nomination, he doesn't care now. But...I WILL NOT VOTE FOR A RACIST HIDING BEHIND A SUIT WITH THE BACKBONE OF A FUCKIN' WORM. IT'S TIME SOMEONE (AND THEY ARE STARTING TOO)EXPOSES HIM FOR WHAT HE REALLY IS. I never thought of myself as a racist before but this whole oBOMBa thing is starting to get to me. Someone said to me the other day"If my grandfather knew it would be like this he would have picked his own cotton." Am I sounding racist? Good, because I am fuckin' tired of being the minority.
On another subject, should have Cruella back together this weekend, just need to get a gasket and some gear oil. It was 80 here yesterday, got a short 100 mile ride in, first time without a leather or leather coveralls. Today was just as nice, high 60's, but to much to do around here to get any riding done. I'm taking my two yellow belts to our first Tournament this weekend. They are making me very proud with their hard work and effort. I'm going to compete too, first time since October, I think, some time before the shoulder surgery.I will be in Minnesota for the Donnie Smith Bike Show at the St. Paul Rivercenter the 29-30th. Stop by and say hi to my sister's and I, we will be sharing a booth with the MN HA and we'll have some new Hellkats Support Gear. As always, have a Great week, thanks for your letter's, I read each and every one and feel free to leave your comments at the guestbook, CG
Thursday, 6 March 2008
So I guess the people are finally seeing through Obama's bullshit and are finally realizing how he's been playing everyone. I wouldn't be surprised if his wife puts a ring in his nose so she can drag him around easier. What a studdering whimp! He can't answer anything without someone giving him the answer first. I'm so looking forward to Clinton and McCain running against each other, it will be a Hella race and it doesn't usually happen that one party praises the other, but I heard Hillary giving Kudos to Mr. McCain today The people have spoken and what they want is a race between Clinton and McCain. I've been glued to CNN for the past couple of week's. Thanks Ohio, Texas and Rhode Island, your voice has been heard.
I got a new radio put in Hammer last week, the display went out on mine and my warranty gave me a brand new one for the $50.00 deductible and I also got a new master cylinder cover and gasket. As long as it's on one work order, it's just a one time fee of $50.00. Not to bad for a two year old radio that 's probably $1000.00 new. I also started tearing Cruella's tranny down on Sunday. Than the frickin snow came in and man did we get slammed, about 8 inch's which is alot for us, than 50 out the next day, so it's almost gone. Not sure what is going on with her yet, just drained the fluid and pulled the cover off. And now it's supposed to snow again tomorrow, what's up with that? It was 80 out on Sunday, this Saturday a high of 20. I'm not going out in the garage in 20 degree's, no thanks. Plus, I'm going to my first tournament on the 15th so I have to workout Saturday and Sunday this week. Have a great weekend, CG
Tuesday, 26 February 2008
WAKE UP CALL!


Is anyone else but me following this campaign or are you just going by words, just WORDS? Obama does not have the experience to run this country. His history in politics is nothing more than a Cook County senator that went along for the ride. He does have experience in one catagory which doesn't do you or I any good as a Civil Rights Attorney. Let's face it, if your White,Asian or Hispanic your best interest's are not his priorities. For God's sake, he had Oprah Winfrey out campaigning with him! Before you know it he'll have her as his running mate. I know he says he is a christian, but com'on he is what he is. I can't help but think that some people would be voting for Hillary if she wasn't a woman. She has more experience in World affairs than any other canidate. She has the knowledge to put this country back on it's feet and if America doesn't wake up soon and give her the nomination your going to find yourself farther in crisis in the coming years. I want our jobs back for our factory worker's. I'm tired of paying $90.00 to fill up my truck. Obama has absoluetly no answer's to anything as to what he can do as our President. He has ZERO experience in World affairs, ZERO! If you have watched any of the debate's you will see that they ask the first question every time to Clinton and she always has an answer. Why? Because the media knows that Obama doesn't have an answer to the difficult questions so they give him time to listen to her and then decide whathe needs to say and that's not just coming from me, they spoofed it on Saturday night live. Maybe if it was a question concerning the NAACP they'd ask him first because surely he would know how to answer that one. Where is your American Pride gone too? Are you willing to hear them address the nation as 'THE PRESIDENT OF THE UNITED STATES OF AMERICA, BARRACK HUSSEIN OBAMA'? Wake up America, he wants the Confederate flag placed in a Museum, come on down to Missouri Obama and try and tell every one here that flys one in the back window of their pickup truck what you think about that flag they have covering up their gun rack. Some of you have never walked in my shoes, some have. We lost our first home on foreclosure right after we bought it when the American Motors Plant shut down in WI. We lost everything except our two bikes, two horses and a pickup truck that was so rusted that the bed had to be held together with tie straps. My husband went to MO to look for work and got hired in a Auto Plant down here. He lived in a campground until he made enough money to rent a house for our daughter and I and our two horse's. When I got here I worked in the nastiest truck stop and at a McDonald's to help make ends meet. We finally got on our feet when Bill Clinton came into office, the entire country was prospering.If BARACK HUSSEIN OBAMA gets nominated at least I know that I had nothing to do with it. CG

Q: The NAACP has asked tourists, groups and sporting events not to come to South Carolina until the confederate flag has been removed from the statehouse grounds. Do you agree with that? Why are you, the candidates, in South Carolina if they support the NAACP?

A: I think that the Confederate flag should be put in a museum. That's where it belongs. But we've got an enormous debate that's taking place in this country right now. And we've got to engage the people of South Carolina in that debate.

Source: 2007 South Carolina Democratic primary debate, on MSNBC
Friday, 15 February 2008
THINK BEFORE YOU VOTE!!!

I can't belive what is going on as far as this Presidential Campaign. Do you really trust someone named Barrack Hussein Obama to run your Country? I voted on Super Tuesday but I sure as Hell didn't vote for Obama. I guess they choose where they want to target certain commercials so if you don't live near a big urban city you probably haven't seen the one with MLK and him side by side chanting what ever the hell it is they are saying. If your republican and you still have time to vote, vote for Hillary now so McCain has a chance because if this dude gets in there we're all fucked. Then you can vote for McCain when him and Clinton are our nominee's and you'll have better odds. Larry King Live the other night had Obama's wife on and he asked her if their was any truth to the rumor that he will have Condoleeca Rice as his running mate, if I'm not mistaken, isn't she a republican? And they say this is not about RACE? She had NO COMMENT. I have never been so passionate about politics in my life,these young kids that are voting for the first time in their lives were just little kids the past eight years, what the hell do they know about what the rest of us having been going through during the Bush Years? Check out the link for more facts and thanks for letting me vent, CG
http://facts.hillaryhub.com/archive/?id=5985
Saturday, 2 February 2008
I celebrated another Birthday last Saturday and the best present I got was 70 degree weather in STL in January, OK the Purple Martin House that the OM gave me was better since mine blew away in a storm a few years ago. Sunday was a repeat of Saturday with record breaking temperature's again and then come Monday, it dropped 40 degree's in 1.5 hours. Thursday night we got slammed with the most snow we have seen here in a long time, I got up yesterday morning to find about 8 inch's on the ground which is alot for where I live.I got outside about 6:00 AM and took the truck up and down the driveway's to make a path. I have learned from past experience that it's not a good idea to plow if it's not really necessary because it melts just as fast as it get's here and if I plow it, than the driveway turns to mush which is hell on the bikes because it's over a tenth of a mile long. We have one neighbor out here and their driveway runs just along side ours and he had a stroke and heart attack last year, so they need their driveway clear in case of an emergency. So I went up to get the tractor out and the front tire was flat. Back down to get an air tank and since I hadn't started it since last summer, I thought I was going to have to put a jump start on ol' Hank, but he fired right up. Did both drives and the one up to the barn, turned the horses out so they could play in the snow and mucked the stalls and by the time I was through, I was exhausted.By yesterday afternoon the roads were all clear and it's already melting, it will be gone in a few days because it's going to rain.
I'm in Chicago this weekend for a Superbowl party, really wanted to see the Packers there, but it didn't happen. Guess I'll go with New York. Have a great week, CG
Friday, 18 January 2008
NEW ELEMENT FOUND


The recent hurricanes and gasoline issues are proof of the existence of a new chemical element. A major research institution has recently announced the discovery of the heaviest element yet known to science.

The new element has been named Governmentium. Governmentium (Gv) has one neutron, 25 assistant neutrons, 88 deputy neutrons, and 198 assistant deputy neutrons, giving it an atomic mass of 312.
These 312 particles are held together by forces called morons, which are surrounded by vast quantities of lepton-like particles called peons.
Since Governmentium has no electrons, it is inert; however, it can be detected, because it impedes every reaction with which it comes into contact. A minute amount of Governmentium can cause a reaction that would normally take less than a second to take over four days to complete.
Governmentium has a normal half-life of 4 years; It does not decay, but instead undergoes a reorganization in which a portion of the assistant neutrons and deputy neutrons exchange places. In fact, Governmentium's Mass will actually increase over time, since each reorganization will cause more morons to become neutrons, forming isodopes.
This characteristic of moron promotion leads some scientists to believe that Governmentium is formed whenever morons reach a critical concentration. This hypothetical quantity is referred to as critical morass. When catalyzed with money, Governmentium becomes Administratium...an element that radiates just as much energy as Governmentium since it has half as many peons but twice as many morons.

Friday, 4 January 2008
HAPPY NEW YEAR!!!!
Well I see you all made it through the New Year's celebration. I got the OK from the Doc to go back to doing my daily chores, never knew just how much I liked mucking stall's until I wasn't allowed to do it for eight week's and he gave me the OK to start back using my arm and shoulder lightly as far as the karate goes. The big one is I'm going to ride my bike tomorrow, I'm like a kid at Christmas,I already have my riding gear layed out on the dining room table. I put the engine guard on in case I have to make a sudden stop and rather than snatch the bike up and hurt myself, I can let it fall over. I also pulled the hard bags off to get rid of some of the excess weight, look's weird like that. The weather is supposed to be really nice, high of 50 tomorrow and 68 on Sunday and it was 8 the other night here. I'll let you know how it goes, CG
Tuesday, 25 December 2007

I hope your Christmas was all you hoped it would be. Thankyou to everyone that sent cards and letter's or signed the guestbook, each and every one was very much appreciated. We spent Christmas Eve with our daughter and her boyfriend and she made us a great dinner. Today was pretty uneventful since we opened gift's last night, so I

got together with my sensei and his daughter Kim who was in from KC and the three of us went down to a friend's dojo and worked out today. I still can't do much but work my legs and I put my sling on so I wouldn't accidently throw that right arm out of habit. Two days ago we worked out and I challenged her to 500 kicks each on the heavy bag, guess my legs are in better shape than I thought because we both did it and I wasn't sore at all, of course I've been working the hell out of them the past six week's. There's a couple pics posted, one of my daughter and I and one from this morning's workout. Have a great week, CG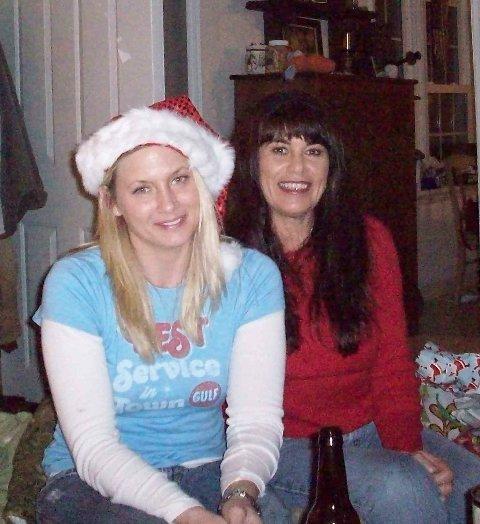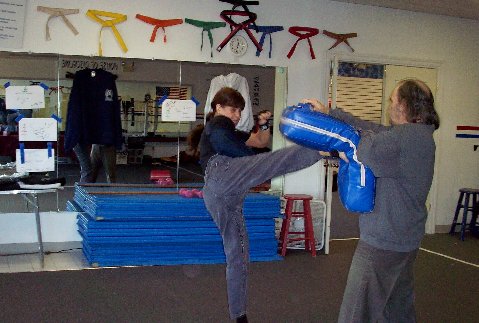 Friday, 21 December 2007

Well it's almost that time again, Christmas is just a few day's away. I've been busy trying to get all the last minute shopping done.I have made a point to say "Merry Christmas" every time someone says Happy Holiday's to me, it's as if they're afraid to say it anymore. Christmas is a Christian Holiday, if you don't believe in it, than that's fine, I don't discriminate against anyone's religious belief's, but this is OUR Holiday and we have the God given right to say "MERRY CHRISTMAS!" I wonder how many parent's that stand in line at the mall with their kid's to see Santa Claus have even told their Children what the real meaning of Christmas is? My Mother would take us to Santa Claus, but we also participated in the Church Christmas Pageant every year. There are to many New Holiday's that are being invented and we are supposed to respect those, well than please respect our's. I would like to wish you all a very Blessed Christmas. I found an old picture of my sister and I visiting Santa Claus, yup that's me on his lap.