Tuesday, 19 December 2006
MERRY CHRISTMAS!!!!
It's hard to imagine that a whole year has come and gone already. The hardest thing's for me this year were losing my Father-in-law and my sister Skat. Many of you have had your own personal tragedy's, my heart goes out to you Foghat on the loss of your Father and to all the people that have lost loved one's over in Iraq. It's hard to explain to someone who has never lost anyone close to them the grief that you go through, know that I understand and the Holiday's won't be easy for any of you without the one's you have lost, but it will get easier with time.
Had a really nice ride on Sunday, it was so warm out, about 65 in the afternoon. The OM and I took off early and went and had breakfast, than rode down 55 to Perryville, cut over at Chester, MO. into IL. and took the river road back up, we knocked off a couple hundred miles plus. Not to much else going on other than going north this weekend with stop's in Chicago, Wisconsin and Minnesota. I'm driving my truck, this time of year would be foolish to try and ride a bike into WI and MN, plus I have a lot of present's and stuff to haul up there. I'll try and check in here if I can get to a computer between Christmas and New Years.All the best to all of you, CG
Wednesday, 13 December 2006
CAT AND BIRD TALE
Now everyone knows that cat's love bird's. I guess it was about five week's ago and I walked outside to see one of our barn cat's with a little Tit Mouse in her mouth. The bird was screaming for it's life and I'm sure a lot of you would say I should have just let mother nature do her thing, actually I figured the little bird didn't have a chance and sometime's just best to get the gun and put it out of it's misery. Well the cat just stood there and when I reached down she let go of the bird. Before I could catch it, it scattered under the holly bush's. So I'm down on my hands and knee's trying to catch the thing, it's still making noise and now it has attracted yet another one of my cat's. So it's war between the two cat's , the Tit Mouse and me, if the little guy only knew I was trying to help him out. I finally got a hold of him, just barely and he jumped out of my hand, fluttered across the ground and the other cat who had joined the bird hunt now had him in HIS mouth. I yelled his name and he actually dropped the bird and I scooped him up. This was a fiesty little guy, he was biting my hands and I was trying to see just how injured he was. His one little wing was sticking out, but than he drew it back up leading me to belive it wasn't broken. I knew he couldn't fly by all the missing feathers out of his wing and tail. I put him in a cage with some food and water and a heat lamp and set him out in the garage for the night. Next morning I was expecting the worse when I went out to look at him, but he was up on the water bowl and from all the droppings in the bowl, I could tell he had been eating. I knew he still couldn't fly and really wasn't sure about his wing so I drove him about 30 miles to the Wild Bird Rescue and when I got there, the building was vacant. I found out from the neighbor that they had relocated about another 25 miles north of there. I called and got directions and the bird and I were off to see if he could be saved. I left him there with the volunteer and I usually leave them a small donation because that's how they operate. I had pretty much forgot about the little guy until today when I got a phone call today from the sanctuary asking for directions to my house. The Tit Mouse survived and they were thinking of releasing him this weekend and since he was an adult, she said they like to release them back where they were found. I couldn't belive that they would drive the little guy all the way back here, but he's on his way this weekend. Kinda makes my Christmas a little brighter knowing that I gave this little guy a second chance, oh and I moved the bird feeders away from the house and hung them all up high in the tree's. Hope to get a pic of him, the one posted is what he look's like in case you never saw a Tit Mouse before. On another subject, hoping to get out tomorrow or at least by Friday for some riding, we were 65 today, but our drive was a mess. I spent a few hours on the tractor moving liquid cement off the drive, all the ice melted from the storms we had a week or so ago and the ground never had a chance to really freeze, so all the minus turned to liquid cement. I'm headed to IL, WI and MN for Christmas. It's going to be hard not to have my sister Skat here with me this year, but just going to MN makes me somehow feel closer to her in spirit. I'll be back here before I leave, CG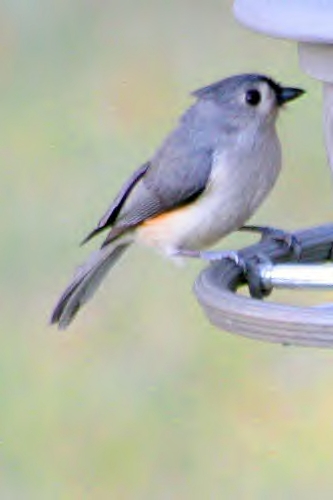 Monday, 27 November 2006
THANKSGIVING WEEKEND

What a great week of riding weather, 70's here all week long. Not much in the way of celebrating Thanksgiving here, I made a couple pies and that was it. The OM and me took off and ate dinner out at a Restaurant and than took a ride down to St. Genevive, MO. I took Hammer for my ride of the day taking into consideration that he'd be a lot more comfortable to ride after a huge dinner. But Saturday and Sunday were Cruella's big weekend, put about 500 miles on her. On Sunday I hooked up with Cat and she was on her new Big Dog she bought awhile back. I think we turned quite a few head's with her on the BD and me on Cruella. We had planned on doing a updated photo of the two bike's over at Falling Springs, but when we got there, the Springs just weren't looking so pretty this time of year. All the Tree's were bare and the water wasn't flowing to well either, so we'll do that Photo this Spring when it's nice and green. Speaking of green, would you please send me that "LEAF" impossed photo that was done last year or so that you mailed to me of Cat and I at the Springs? You know who you are and what the Photo was. I misplaced it somewhere and would like another copy of it. I have a feeling this may have been Cruella's last ride of the season. She is do for some new gaskets, they are starting to weep a little, nothing serious, but I don't like leaking or weeping. I hear Winter is moving in on Thursday this week so it might be time. Have a great week, CG
Wednesday, 8 November 2006
DID YA VOTE?

If ya didn't didn't get off your ass and go vote, don't bitch if your not happy with all the changes that are going to take place. This was not a Rep-Dem thing, this was about change for our Country and getting us back on track where we were. It sucks to see us in such a deficit when we were so far ahead before Bush came into office. I got a sense of pride after walking out of the polling place yesterday knowing that my vote could make a difference and it did. Congratulations to Claire McCaskill (DEM) for defeating Jim Talent in Missouri. We need change and we need it NOW. I'm not much into Politic's, but I know enough that this Country is screwed up and something's gotta give.Don't think you've been getting strung along the past month or so for the (REP) vote, go check the gas pumps this morning. They jumped here overnight from $1.92 to $2.19 a gallon, hmmm... think someone is a little pissed off?
I did good at my tournament this past weekend, took first in forms and also won Grand Champion in forms. Sparring, well.....you probably know already what I'm going to tell you. There was only three of us, one got a buy, she automatically got seated to fight off for 1st and 2nd place. I had to fight this really Tall, BIG girl and the judges were making horrible calls, I couldn't belive the scoring, they weren't seeing my combinations, and the clock was running and I was getting pissed with the scoring, so I let it rip to the head EXCESSIVELY, the white flags came up and circled, end of story.Indian Summer is back, 70's here the next two days and I'm sick with a head cold, go figure.I just found out that I'll be riding down to Florida in May for my Grandson's graduation, me and the OM are going to get to take a road trip together, it's been awhile, looking forward to the ride. That's two trips to Florida for me this year , haven't been back there since '93 or '94. Have a Great Week, CG
Friday, 20 October 2006
CONGRATULATIONS STL CARDINALS!!!
Talk about a nail biter , I was sitting cross legged on the couch, holding a pillow, chewing my nails(which I don't normally do) during the final inning of the game last night between the Cardinals and the Mets, it was any body's game and the Cardinals pulled through again,World Series tomorrow. I took Cruella out this past weekend and she was running smooth as silk. Before I headed out, I checked the air in the tire's and I like a low tire in the rear on her, but not the front and she needed some air. I turned the compresser on and went to find the air chuck and I thought I had it on there, NOT! and it went flying through the air and of all the places it could have landed(the floor), it hit Hammer on his front fender nad bounced off there onto the fork and back to the fender and put two nice dents(looked like hail damage) right smack center in front of the forks. I was so pissed that I let that happen. I found a dent removal place today and for $85 they took them both out and you'd never know they were there. I didn't realize that they worked on bike's, took one of my truck's in once, but never a bike. He said they also do gas tank's. Been keeping myself busy with the Martial Art's and have a few tournament's coming up this fall, one in November and I'll be traveling to Florida in January for a Tournament and to visit with some Family I have down there. I'm headed to Minnesota and Chicago this next week, not taking the bike, as much as I would like to,it's not going to happen. I'm still getting the emails and calls on the passing of my sister Skat, every letter, call or guestbook signing is truely appreciated, thankyou all. Have a great week and may the best team win! CG
Sunday, 8 October 2006
GO CARDS!!!!!!!!!!!!!!!!!!




Congratulations to the ST. Louis Cardinals!!!!!!


Sunday, 1 October 2006
THANKYOU!!!!!!!!!!!!!!!!!
The benefit for Skat's children was a huge success. I did a write up on the Hellkats Website on Kat Tails, you can read all about it there and the picture's are posted on pages 9 &10 of HOT SHOT'S. i lfet out for MN on Thursday and missed all the rain until I got to Albert Lea, so I only had a little over 100 miles of rain on a 600 mile ride. I rode back to my sister Vicki's from MN and we almost made it and her bike took a shit about 30 miles from home. We pulled the seat and looked over everything we could, tried to jump start it with a scewdriver from the selinoid and nothing. So we had to call a tow truck, got it home and it fired up in the garage. All it needed was a starter relay and I didn't have my big tool bag with me, or we would have had one. Anyway, we had great weather riding up in MN, the leaves were really starting to change over into WI. I headed home on Tuesday, again, purrfect riding weather. I went to a very small tournament this past weekend near Paducah, KY and had a good day in both Kata and sparring, I think I am back on track. No more tournament's until November.We are having our Indian summer here in STL. 86 today and 90's for the next couple of day's. Please check out all the details from the benefit at www. hellkatsmc.com. Have a great week, CG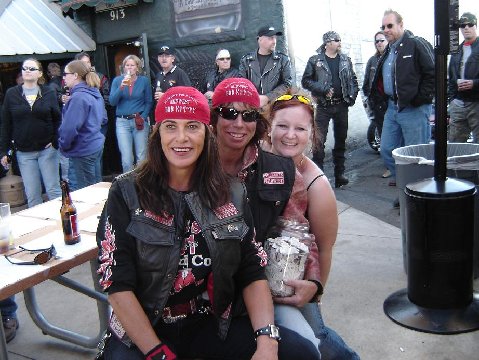 Sunday, 17 September 2006
SHOULD HAVE STAYED HOME

I should have stayed home and saved my money, I sucked at the Tournament yesterday. It was a LONG drug out Tournament and I did OK in forms, I took first place, but I wasn't ready or focused when it came time to spar. The ref told me I had plenty of time, that they were going to run a different division first, so I ran to change into my sparring gear and by the time I got back to the ring, they told me I was fighting, I didn't even have all my gear on. I made my first mistake by putting my wrong side forward, I have a specific side I prefer, don't know where my head was at, but it sure wasn't there in the ring. I got tapped with a couple of round kicks that wouldn't have killed a fly, didn't make a difference how hard I hit or what I did, the judge only saw what he wanted to see. Whatever, no excuse's, it was my own fault, I should have went home while I was ahead with the Kata win. But somewhere along the way they didn't annouce grand champion forms and me and a few others that qualified missed it, so it was over and done. Since it was their error, the said they would run a second one for the rest of us,this time I FORGOT my form halfway through. This has happened to just about everyone at one time or another, and it wasn't my first time, I just wasn't focused on what I was doing. I planned on riding Cruella into the city today, but it rained and stormed so I tried to get some stuff done around the house. Tomorrow morning I have to go get another tire for Hammer because I will be riding up to MN this week for the Benefit and even though it still look's good, I'm not going to push it. I'm bringing some of the RIP Patch's with me, so if you haven't got one on line, you can get one at the benefit this Sunday. Have a great week, CG
Monday, 11 September 2006
FLYER POSTED

The flyer is posted for the Benefit for skat's Children on the Event's Page. I'm still numb, but the letter's and post's from all of you sure have been a tremendous help.If you have a bussiness and can donate something that we can use for a slient auction, it would be greatly appreciated. All of the info is available on the flyer. The Hellkats have also had RIP patches made that we are offering to Skat's friends and supporter's and you can get them from the Hellkats website at the Support Merchandise page. So I have been trying to keep myself busy and I took a 300 mile ride yesterday with a few friend's over in Illinois. I thought I was through with Tournaments for a while, but I'm going to go to one this weekend and work out some of my hurt and anger. Thanks again for all your support, CG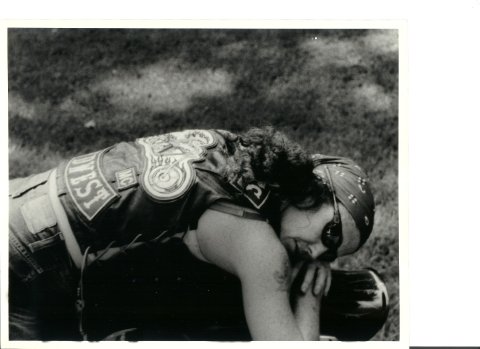 RIP SWEETIE

Monday, 28 August 2006
There is going to be a benefit for Skat's children on Sunday September 24th at the Joint in Minneapolis. I will get a flyer posted as soon as it's available. The Hellkats have also cancelled their DareDevil Ride that was scheduled for this coming Labor Day weekend. We will reschedule it at another time as a Memorial Ride in Skat's honor. Please visit her page at www.hellkatsmc.com and click on the RIP SKAT.CG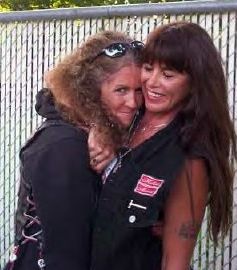 Saturday, 26 August 2006
RIP SISTER SKAT

This has been a very trying week for me. My Best Friend and club sister Skat was killed this past week on her bike. Her smile, her laugh can never be dupilcated. She could put a smile on anyone's face. I remember the first time we rode together, I thought Wow! Here's a chick that can ride just like me and actually keep up. And ride we did, thousands of miles through rain, snow, heat, sleet, you name it, we did it. I honestly don't belive that there will ever be another Hellkat sister that could fill her shoes when it comes to riding. We have setup a memorial page for her at the Hellkats website. Please feel free to leave your comments for Skat at our guestbook. Thankyou to all my Friends and supporters who took the time to drop a line, call , send flowers etc. I have been to overwhelmed to return the calls , but please know that I appreciated each and every one. Ride on Sister, God has chosen you for one of his Angels to look over the rest of us. I love you forever Skat, I'll see you again someday and you can take me for that ride in the sidecar. Love, Mama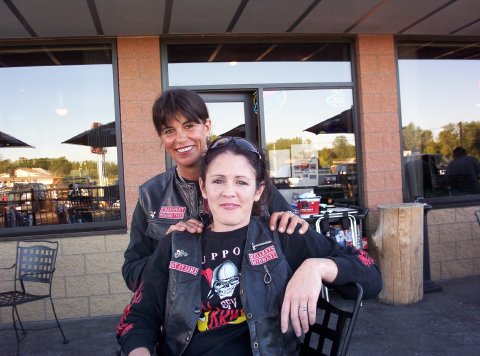 Friday, 18 August 2006
BOYCOTTING BELLEVILLE!!!!!!
So I made the decision today to boycott the Belleville ,IL. swapmeet after thinking it through and talking with my club sisters and reading the letter's from friends and supporter's. I can sell my bike parts on EBAY and they of course will charge me a fee, but their not going to tell me what I can and cannot wear. Why should I go pay money for a booth and be told that I cannot wear my colors or a t-shirt that says I belong to a Motorcycle Club, after all, this is a motorcycle swapmeet. And than to have them say that 1%er's will not be allowed to setup booth's, have they forgotten that is was the old school bikers and 1%er's who started these swapmeet's? This is the USA, now we have dress codes at motorcycle swapmeet's. I went to the HD dealer today and talked to a few people there who also said they would not be attending.There is absolutely no logic in this whatsoever. There has NEVER been any disturbances between's club's there, one would be foolish to do so with all the FED'S etc. that are there. So i'll be putting some thing's on EBAY in the next week or so. I have two S&S Carbs, one "D" and a "G" that belonged to Tarbaby and also a Red Shift Cam that is in very good condition, some tanks and fenders and seats from the Softails, windshield, and a lot of other stuff. And I can wear what I want while I'm listing the stuff and don't have to sit there for 10 hours. Have a great week, CG
Wednesday, 16 August 2006
COLORS NOT ALLOWED AT UPCOMING BELLEVILLE SWAPMEET!
There have been some changes made to the Belleville, IL. Swapmeet, one being that it has been sold to a new promoter. I was going through the mounds of mail I got while I was in Sturgis and found a letter postmarked August 2, 2006 from B&G Promotions with the information on all the changes. These new "Rules" have been implemented by the Belle-Clair fairgrounds. It states that wearing of Motorcycle Colors at future events at the fairgrounds will be prohibited. Individuals wearing specific clothing(with or without emblems) which identify them as part of a motorcycle club will not be allowed to enter the event. In addition, motorcycle clubs having been identified as 1% "groups" will not be able to purchase tables, hold fund raising or recruitment drives while in the fairgrounds. So most of you know that I am a member of the Hellkats MC, and of course we are not 1%er's, so that doesn't affect us from purchasing a booth. We had intended on getting two spaces to sell a bunch of used parts along with our support stuff. The majority of the people that come to the swapmeet belong to some type of motorcycle club. HOG members have thier "Colors" along with the Sober Clubs, the Christian bike clubs, the Veterans Clubs, your 1%er's and non 1%er's. Many of these clubs have booths there on a regular basis and if they are not allowed to wear their colors or even so much as a T-shirt, is their merchandise going to be allowed? Who is going to come out to buy the stuff if no one is allowed to come out for a Sunday afternoon of socializing? The old days of swapmeets have been gone for years. You see very few vendors selling old bike parts, it's mostly T-shirts, leather and junk. Knowing this, most just ride their bikes over to come out and drink a beer and socialize. So does that mean that a HOG member cannot wear a HOG member shirt? It's a group, but it's still a form of colors and they do have it worded that a group and club as being the same thing. My concern is that I myself spend money on a space for used parts and no one shows up. There is always so much security there, everything from locals to feds, you have to go through metal detectors, get wanded, I think they are over reacting on this. If they think this will bring more people out because the clubs are gone, they better think again. the clubs are the main source of income whether they come to sell or buy. No vendors, no customers, no swapmeet. The new promoter is Tony Rusteberg, the number they have listed is 618-277-4645. You might want to leave him some feedback on this and feel free to post at the guestbook here with your opinion. CG
Tuesday, 15 August 2006
THERE'S NO PLACE LIKE HOME! THERE'S NO PLACE LIKE HOME!
It's not Kansas and I'm not Dorothy, but it sure feel's good to be home. The past few years I cut my Sturgis trip down to four days out there, this year I had the opportunity to go out earlier and stay with a friend, so I did. By Wednesday I had had enough, but the room I had for the later part of the week was already paid for, so I stayed. I rode 697 miles on the first day out there and my wrist has informed me that my limit is now 600 MAX per day. I made the mistake of checking my oil at night and it was so clean that I thought it was empty, so I added a quart. I rechecked it when I woke up only to find that I had way overfilled it. Since I didn't have a siphon hose, I had to drain it from the Pan. (Thanks Dozer for popping it loose). With a little help, I got it drained into the motel ice bucket and he never used a bit the entire trip. I have one bad habit, I smoke and I know that the brand I smoke is not available anywhere in the Sturgis area, probably not in the State of SD. So I dished out $35.00 here before I left and packed a fresh carton in my bags. When I left out the second day of my trip, I was on I-90 West and that wind was blowing like it normally does. I had probably run 15 miles and some guy rides up along side me and points to my saddlebag and I see that it is open . I pulled over to find my carton of Cigarettes gone, my new stingy brim that I never got to wear and one of my favorite gauntlet gloves that my friend Rowdy from CA sent to me for a present. There was probably more lost out there, I guess I'll never know until I go to look for it and can't find it. I looked through every grocery store, gas station, you name it, no cigarettes which was probably a good thing because I couldn't stand anything that I ended up buying. I lucked out as far as rain goes, only got wet once and that was between Stugis and Whitewood. I got to see all my old friends at the B&B and that is always a good time since I have known most of them for over 10 years now. I didn't get as much riding done out there a I usually do and the crowd seemed to be a little smaller this year which made for an excellant ride on Saturday to WY to Devil's Tower. My ride home was nice, no busting any ass to get anywhere, so I did a leisurely ride of 528 on Saturday and 500 yesterday. As soon as I got to the MO line, I stopped in Rockport and bought a carton of cigarettes and sat and smoked about six of them along with a cup of coffee. Pulling in the driveway I realized just how much I missed my family and all my critters. Oh and the critters sure let me know that they missed me as well. I didn't need much of a shower after all the dog baths I got got. Their love is so unconditional and even evil Dora the cat was sweet and loving, she hasn't bitten me once yet. I hope you all had a safe ride home. CG
Friday, 4 August 2006
EVENTS UPDATE
I have a late event posted for tomorrow. If you live in the STL area, this is for Donna from Surdyke's niece's daughter who lost her mother earlier this year after being murdered. Please check it out. Have a safe ride out to Sturgis and back, I'll see you there. CG