Friday, 15 February 2008
THINK BEFORE YOU VOTE!!!

I can't belive what is going on as far as this Presidential Campaign. Do you really trust someone named Barrack Hussein Obama to run your Country? I voted on Super Tuesday but I sure as Hell didn't vote for Obama. I guess they choose where they want to target certain commercials so if you don't live near a big urban city you probably haven't seen the one with MLK and him side by side chanting what ever the hell it is they are saying. If your republican and you still have time to vote, vote for Hillary now so McCain has a chance because if this dude gets in there we're all fucked. Then you can vote for McCain when him and Clinton are our nominee's and you'll have better odds. Larry King Live the other night had Obama's wife on and he asked her if their was any truth to the rumor that he will have Condoleeca Rice as his running mate, if I'm not mistaken, isn't she a republican? And they say this is not about RACE? She had NO COMMENT. I have never been so passionate about politics in my life,these young kids that are voting for the first time in their lives were just little kids the past eight years, what the hell do they know about what the rest of us having been going through during the Bush Years? Check out the link for more facts and thanks for letting me vent, CG
http://facts.hillaryhub.com/archive/?id=5985
Saturday, 2 February 2008
I celebrated another Birthday last Saturday and the best present I got was 70 degree weather in STL in January, OK the Purple Martin House that the OM gave me was better since mine blew away in a storm a few years ago. Sunday was a repeat of Saturday with record breaking temperature's again and then come Monday, it dropped 40 degree's in 1.5 hours. Thursday night we got slammed with the most snow we have seen here in a long time, I got up yesterday morning to find about 8 inch's on the ground which is alot for where I live.I got outside about 6:00 AM and took the truck up and down the driveway's to make a path. I have learned from past experience that it's not a good idea to plow if it's not really necessary because it melts just as fast as it get's here and if I plow it, than the driveway turns to mush which is hell on the bikes because it's over a tenth of a mile long. We have one neighbor out here and their driveway runs just along side ours and he had a stroke and heart attack last year, so they need their driveway clear in case of an emergency. So I went up to get the tractor out and the front tire was flat. Back down to get an air tank and since I hadn't started it since last summer, I thought I was going to have to put a jump start on ol' Hank, but he fired right up. Did both drives and the one up to the barn, turned the horses out so they could play in the snow and mucked the stalls and by the time I was through, I was exhausted.By yesterday afternoon the roads were all clear and it's already melting, it will be gone in a few days because it's going to rain.
I'm in Chicago this weekend for a Superbowl party, really wanted to see the Packers there, but it didn't happen. Guess I'll go with New York. Have a great week, CG
Friday, 18 January 2008
NEW ELEMENT FOUND


The recent hurricanes and gasoline issues are proof of the existence of a new chemical element. A major research institution has recently announced the discovery of the heaviest element yet known to science.

The new element has been named Governmentium. Governmentium (Gv) has one neutron, 25 assistant neutrons, 88 deputy neutrons, and 198 assistant deputy neutrons, giving it an atomic mass of 312.
These 312 particles are held together by forces called morons, which are surrounded by vast quantities of lepton-like particles called peons.
Since Governmentium has no electrons, it is inert; however, it can be detected, because it impedes every reaction with which it comes into contact. A minute amount of Governmentium can cause a reaction that would normally take less than a second to take over four days to complete.
Governmentium has a normal half-life of 4 years; It does not decay, but instead undergoes a reorganization in which a portion of the assistant neutrons and deputy neutrons exchange places. In fact, Governmentium's Mass will actually increase over time, since each reorganization will cause more morons to become neutrons, forming isodopes.
This characteristic of moron promotion leads some scientists to believe that Governmentium is formed whenever morons reach a critical concentration. This hypothetical quantity is referred to as critical morass. When catalyzed with money, Governmentium becomes Administratium...an element that radiates just as much energy as Governmentium since it has half as many peons but twice as many morons.

Friday, 4 January 2008
HAPPY NEW YEAR!!!!
Well I see you all made it through the New Year's celebration. I got the OK from the Doc to go back to doing my daily chores, never knew just how much I liked mucking stall's until I wasn't allowed to do it for eight week's and he gave me the OK to start back using my arm and shoulder lightly as far as the karate goes. The big one is I'm going to ride my bike tomorrow, I'm like a kid at Christmas,I already have my riding gear layed out on the dining room table. I put the engine guard on in case I have to make a sudden stop and rather than snatch the bike up and hurt myself, I can let it fall over. I also pulled the hard bags off to get rid of some of the excess weight, look's weird like that. The weather is supposed to be really nice, high of 50 tomorrow and 68 on Sunday and it was 8 the other night here. I'll let you know how it goes, CG
Tuesday, 25 December 2007

I hope your Christmas was all you hoped it would be. Thankyou to everyone that sent cards and letter's or signed the guestbook, each and every one was very much appreciated. We spent Christmas Eve with our daughter and her boyfriend and she made us a great dinner. Today was pretty uneventful since we opened gift's last night, so I

got together with my sensei and his daughter Kim who was in from KC and the three of us went down to a friend's dojo and worked out today. I still can't do much but work my legs and I put my sling on so I wouldn't accidently throw that right arm out of habit. Two days ago we worked out and I challenged her to 500 kicks each on the heavy bag, guess my legs are in better shape than I thought because we both did it and I wasn't sore at all, of course I've been working the hell out of them the past six week's. There's a couple pics posted, one of my daughter and I and one from this morning's workout. Have a great week, CG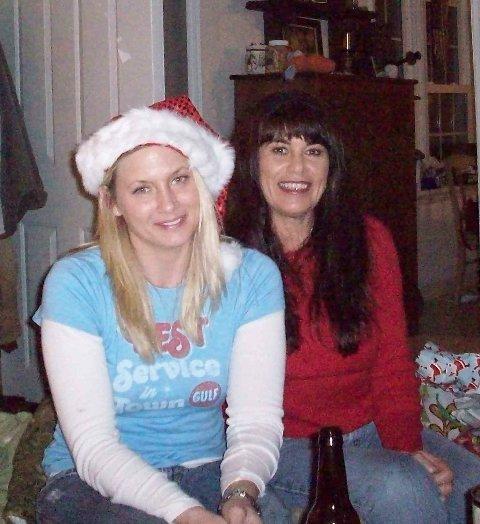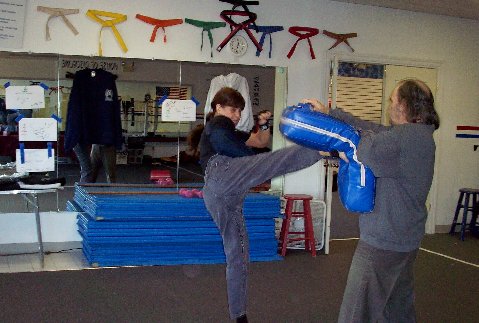 Friday, 21 December 2007

Well it's almost that time again, Christmas is just a few day's away. I've been busy trying to get all the last minute shopping done.I have made a point to say "Merry Christmas" every time someone says Happy Holiday's to me, it's as if they're afraid to say it anymore. Christmas is a Christian Holiday, if you don't believe in it, than that's fine, I don't discriminate against anyone's religious belief's, but this is OUR Holiday and we have the God given right to say "MERRY CHRISTMAS!" I wonder how many parent's that stand in line at the mall with their kid's to see Santa Claus have even told their Children what the real meaning of Christmas is? My Mother would take us to Santa Claus, but we also participated in the Church Christmas Pageant every year. There are to many New Holiday's that are being invented and we are supposed to respect those, well than please respect our's. I would like to wish you all a very Blessed Christmas. I found an old picture of my sister and I visiting Santa Claus, yup that's me on his lap.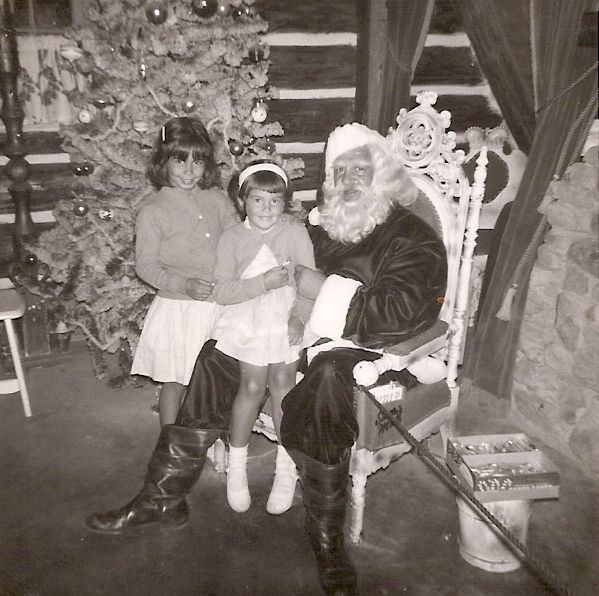 Tuesday, 20 November 2007



Just dropping by to wish you all a Happy Thanksgiving. CG
Sunday, 11 November 2007
HELLOWEEN, SURGERY AND.......

So I made the ride up to Chicago for the Hellnight on Halsted party, shitty ride up, rain all the way. Ride home was nice and sunny. I was determined to ride regardless of the weather because I knew I had surgery coming up when I got home. I planned on riding Cruella on the actual Helloween night and I went out to start her and she didn't feel right. I felt a sort of grinding dragging in the tranny when I tried to kick her over so I adjusted her clutch and she still didn't want to pop. I went back and started over and this time I found my problem cause it kicked right through, must of screwed up the gear in the kicker cover and I didn't have the parts or the time to fix it, so I took the bagger out instead. Had a nice ride with Muck , didn't stay out long. We also had a good day of riding last Sunday and than it was surgery on Wednesday. My pain pump came out yesterday and I started today to wean myself off the narcotic's, I dont like to use them more than I have to, but I may have moved a litle to fast, cause I have pain again and it seem's worse today than yesterday. Not unbareable, just irritating and what make's it worse it was 75 here today. I plan on being back to the dojo on Thursday to teach, I had to go as far as swapping out truck's with the OM because mine is a manual and his is automatic and I can't use my shifter right now. I did also go to my last tournament for awhile last Saturday and took 1st in form's and got DQ'd in sparring. It makes no sense to me why the men can fight as hard as they want to, but the women can't and this chick was wearing head gear with a face mask and out weighed me by100 lbs and they got me for excessive contact. I did this through my injury, I just wrapped myself up good and tight and figured, hell I was going to go in and get fixed three days later anyway. Have a great week and thanks for the letter's of concern, CG
Wednesday, 17 October 2007
RAT RIDE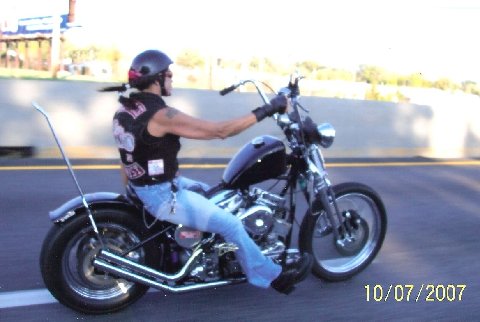 And yet another year of the Rat Ride has come and gone. I really didn't plan on going but my daughter and her boyfriend said they were going to be there so I decided to take a ride over. It's been a few years since I attended this ride, it start's at Cadilac Jack's on the MO. side of the river and than continue's on over to IL. Some take the ride, some stay right there and that's what I chose to do, to many new riders and when you mix alcohol with that, well.....It was really hot for October, in the 90's. I got there what I thought was early, like 10:30 AM and there must have been 1000 people there already, OK maybe 700. The band was good and the company was even better. Towards the end of the day I took a ride with some members of some of the other clubs and we headed over to Shady Jack's in downtown STL. Want to thank Cherokee for the pic she took while on the back of her OM's bike of me and Cruella cruising down the highway through STL. I did another tournament up in Hannibal, MO and only did forms again and took 1st and will be doing one more before scheduled surgery and I might just go ahead and fight, surgery is four days after the tournament and when I'm fighting I don't feel the pain, guess it's the adrenaline. I just didn't want to do anymore damage these past couple of week's where it would affect my riding because I have a few more road trips planned. Yeah, call me crazy, but I have learned to deal with pain in my life whether it be physical or emotional brought on by other's. I have uploaded a new song on the homepage, please take a minute to listen to it. I'm not preaching religion on anyone, but I think every one of you will agree that this is an awesome song.Bike show at TJ's in Pevely on Sunday the 21st. See you there! Have a great week, CG
Saturday, 29 September 2007
RIP COLORADO DEB
This month has been a whirlwind, hard to believe it's over. I bring you the sad news of yet another sister who tradically passed away, Colorado Deb aka "Cody". You've read about our journey's across the USA over the years, Deb will be forever in my heart. So that's just one of the thing's that has been going on at this end. I got the results back , and yup, more surgery. I did a tournament last Saturday, took a 1st in forms, didn't spar because of the injury. I have canceled the rest of my tournaments for the next few months. I have put off the surgery for about a month , have a few more places that need riding to. I rode Hammer last Friday to Colombia, MO. for the tournament there on Saturday. I got through with the tournament about noon and took off for Omaha, NE. for a party there. I left out on Sunday morning with some friends and rode to Minneapolis for a few days to visit. I went out for dinner with Skat's daughter and than rode over to the cemetary to pay my respects. Wednesday night a group of us went out for all you can eat Crab Legs. Came home on Thursday and I've been trying to play catch up here. I did manage to get out today on Cruella and ride over to TJ's for a bit. There is a flyer posted for the Helloween Party in MN on the events page. I'll be doing my Helloween in Chicago, last year I was able to make the one in MN on Friday and make it to Chicago on Saturday, but conflicting dates this year. Check out the pic below of Deb. There is also a Link at the top of the Hellkats MC homepage for Deb. Have a great week, CG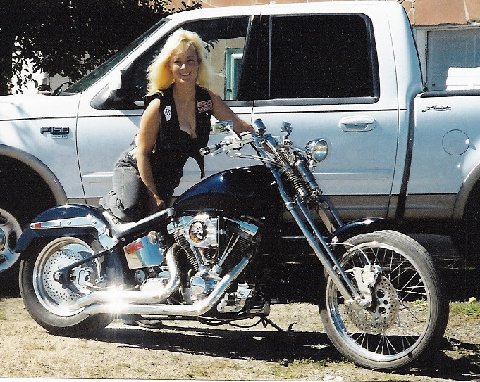 Saturday, 8 September 2007

Where have I been? Here there, everywhere. Labor Day weekend I actually stayed close to the house for once, my Sis and her husband rode down from up north and we spent the weekend with them. We split off on Sunday and the guy's went one way and we rode the other. We rode up to the city and made a stop at Shady Jack's, grabbed some lunch there and left our bikes and walked down to the STL landing for the Big Muddy Blues Fest. Hung out there for awhile and than went back to get our bike's and did some more riding and eventually ended up back with the OM for dinner. One of the best Labor Day weekend's as far as weather went we've had in a long time. We've been getting a nice two day soaker here and we needed it so bad, everything was so fried up when I got back from Sturgis. Today is the Big Mo Biker Bash out in Hillsboro, MO. Guess I'll be taking the truck, not to fond of parking my bike in a Big Muddy Field. There should be a flyer posted on my Events Page. I have two tournaments coming up next weekend and the weekend after. I went in two days ago for an MRI of my shoulder which has not been right since I fought in June, I think I might have a slight tear in the rotator cuff, I'll find out this Tuesday. I have a road trip planned for MN the last week of September, not going to be to many more rides up that way before the snow starts flying. Have a great week, CG
Wednesday, 15 August 2007
ARKANSAS,MINNEAPOLIS AND STURGIS
I'm home after a lot of time on the road. I made a run down to Eureka Springs, AR at the end of July and than left for Minneapolis on the 3rd of August. I had a nice visit there with Skat's daughter, wehad a girl's days shopping etc and than went out to the cemetary together. My sister Powder rode in and met me there and the two of us left for Sturgis on the 5th. I can't remember ever having such nice weather for Sturgis. It wasn't to hot and we never had a drop of rain. I've got about 35,000 on the 2006 now. I came home to a fried garden and the pasture's are gone too. while I was gone we under a bad heat wave, 100's everyday and it's still going this week. The last I looked today it was 106 and add the Missouri humidity, well.....It's not good. I've been bringing my horses in and hoseing them down in the mornings , putting them in their stalls with their fans and turning them out about 10:00 PM. Karate was rough last night after a two week lay off, but I needed a break to let a sore shoulder heal. I have two tournaments coming up in September and the last tournament I did was July 21st and I only did forms because of the sore shoulder and did well, I took second place to my sensei and that was the first time we competed together and there was 17 competitors in our division, so I was real happy with the outcome. I plan on fighting at the next two in September. Going to get Cruella out on Saturday IF it cools down a bit. Have a great week, CG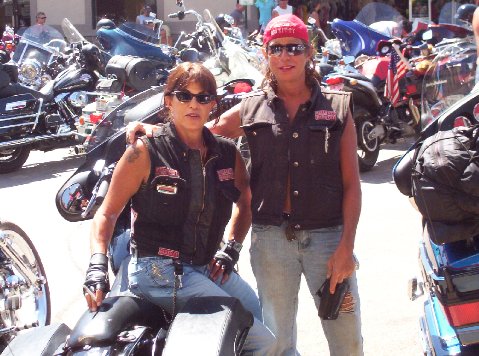 Monday, 9 July 2007
HERE THERE EVERYWHERE!
Been getting lot's of miles on. I took a ride up to Chicago and than up to Wisconsin towards the end of June. Got most of the work done around the property, but it's never ending. I have to pull the fuel line off the tractor and clean it out and put in a new tranny filter. But it's never ending with the yard work around here. I went to a local bike show on Sunday with Cruella, I was hoping she was going to be "Good", because the temps were in the high 90's and the humidty down here can make it feel like 120. Nothing like kicking a bike that doesn't feel like starting in the heat, but she was so good all day, one or two kicks. We didn't stay at the bike show all day, stopped in for an hour or so, than took a ride to a little watering hole where the air was cool and the Beer was cold. I have another ride this weekend out of town and yet another at the end of the month and than it will be time for Sturgis again. Have a great week, CG
Sunday, 17 June 2007
AWARDS BANQUET
Well another year has come and gone and once again I got to wear a DRESS! I accepted my 1st place year end awards in both Kata and Sparring. It's been a very long weekend and I'm drained from all the socializing, road trip Friday!CG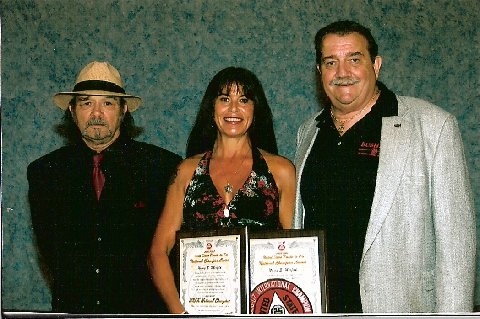 MY SENSEI'S MCMULLIN AND MR. ROBERT YARNALL


Friday, 8 June 2007
GET 'ER DONE!
I've been trying all week to get things caught up around the farm, but shit just keep's taking a shit. The mower broke, just a simple spring, you'd think Sears would stock the thing at their parts store, NO! I had to order it online because the one from the auto parts store wasn't strong enough, still waiting for it after a week. Than I put aside last Sunday to brush hog the fields, made two rounds and the rear tire blew. It was old, but damnit, I really wanted to knock the top offf that field while it was at seed. Just about every one knows a handy man and we have a local, Joe's his name. Joe does a lot of work on Big Rigs and farm equiptment around here. Hadn't seen him in a few years but I knew if anyone had a tire, it'd be Joe. I took a ride out there and sure enough he told me he had a guy who had a used one in good shape he could get me for $150.00. I said I need it and he told me he would come out and pull the tire off and get me going. Joe hadn't changed none from the first time I met him almost 20 years ago. Still greasy, still spitting every 60 seconds and still had three junk yard sheaprds sunbathing that would sure enough bite your leg off if you pulled in there at night. He shows up this morning with the tire, a new tube and asks me to drive the tractor down to the compresser and he'd get 'er done. Orignially he was going to come out and take the rim back with him. Talk about service, in less than an hour he had the old one off and the new one on and than tells me I only owe him $100.00 for the tire, $30.00 for the tube and $25.00 for the service. If you ever priced tires for a Big Tractor, well they ain't cheap. I told him I'd stop by after I went to the bank. I gave him $50.00 for the service, and $130.00 for the tire. There are still some good honest people out there. I did a few acres tonight and tomorrow it will be all day tanning on the tractor. Sunday I have a ride planned. Have a safe weekend, CG