Sunday, 11 November 2007
HELLOWEEN, SURGERY AND.......

So I made the ride up to Chicago for the Hellnight on Halsted party, shitty ride up, rain all the way. Ride home was nice and sunny. I was determined to ride regardless of the weather because I knew I had surgery coming up when I got home. I planned on riding Cruella on the actual Helloween night and I went out to start her and she didn't feel right. I felt a sort of grinding dragging in the tranny when I tried to kick her over so I adjusted her clutch and she still didn't want to pop. I went back and started over and this time I found my problem cause it kicked right through, must of screwed up the gear in the kicker cover and I didn't have the parts or the time to fix it, so I took the bagger out instead. Had a nice ride with Muck , didn't stay out long. We also had a good day of riding last Sunday and than it was surgery on Wednesday. My pain pump came out yesterday and I started today to wean myself off the narcotic's, I dont like to use them more than I have to, but I may have moved a litle to fast, cause I have pain again and it seem's worse today than yesterday. Not unbareable, just irritating and what make's it worse it was 75 here today. I plan on being back to the dojo on Thursday to teach, I had to go as far as swapping out truck's with the OM because mine is a manual and his is automatic and I can't use my shifter right now. I did also go to my last tournament for awhile last Saturday and took 1st in form's and got DQ'd in sparring. It makes no sense to me why the men can fight as hard as they want to, but the women can't and this chick was wearing head gear with a face mask and out weighed me by100 lbs and they got me for excessive contact. I did this through my injury, I just wrapped myself up good and tight and figured, hell I was going to go in and get fixed three days later anyway. Have a great week and thanks for the letter's of concern, CG
Wednesday, 17 October 2007
RAT RIDE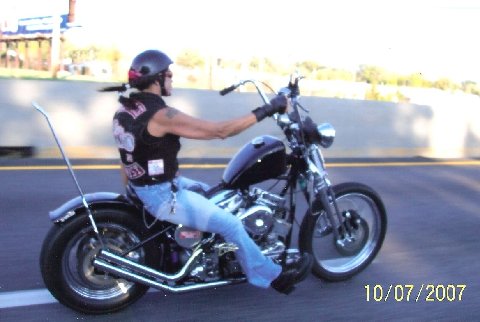 And yet another year of the Rat Ride has come and gone. I really didn't plan on going but my daughter and her boyfriend said they were going to be there so I decided to take a ride over. It's been a few years since I attended this ride, it start's at Cadilac Jack's on the MO. side of the river and than continue's on over to IL. Some take the ride, some stay right there and that's what I chose to do, to many new riders and when you mix alcohol with that, well.....It was really hot for October, in the 90's. I got there what I thought was early, like 10:30 AM and there must have been 1000 people there already, OK maybe 700. The band was good and the company was even better. Towards the end of the day I took a ride with some members of some of the other clubs and we headed over to Shady Jack's in downtown STL. Want to thank Cherokee for the pic she took while on the back of her OM's bike of me and Cruella cruising down the highway through STL. I did another tournament up in Hannibal, MO and only did forms again and took 1st and will be doing one more before scheduled surgery and I might just go ahead and fight, surgery is four days after the tournament and when I'm fighting I don't feel the pain, guess it's the adrenaline. I just didn't want to do anymore damage these past couple of week's where it would affect my riding because I have a few more road trips planned. Yeah, call me crazy, but I have learned to deal with pain in my life whether it be physical or emotional brought on by other's. I have uploaded a new song on the homepage, please take a minute to listen to it. I'm not preaching religion on anyone, but I think every one of you will agree that this is an awesome song.Bike show at TJ's in Pevely on Sunday the 21st. See you there! Have a great week, CG
Saturday, 29 September 2007
RIP COLORADO DEB
This month has been a whirlwind, hard to believe it's over. I bring you the sad news of yet another sister who tradically passed away, Colorado Deb aka "Cody". You've read about our journey's across the USA over the years, Deb will be forever in my heart. So that's just one of the thing's that has been going on at this end. I got the results back , and yup, more surgery. I did a tournament last Saturday, took a 1st in forms, didn't spar because of the injury. I have canceled the rest of my tournaments for the next few months. I have put off the surgery for about a month , have a few more places that need riding to. I rode Hammer last Friday to Colombia, MO. for the tournament there on Saturday. I got through with the tournament about noon and took off for Omaha, NE. for a party there. I left out on Sunday morning with some friends and rode to Minneapolis for a few days to visit. I went out for dinner with Skat's daughter and than rode over to the cemetary to pay my respects. Wednesday night a group of us went out for all you can eat Crab Legs. Came home on Thursday and I've been trying to play catch up here. I did manage to get out today on Cruella and ride over to TJ's for a bit. There is a flyer posted for the Helloween Party in MN on the events page. I'll be doing my Helloween in Chicago, last year I was able to make the one in MN on Friday and make it to Chicago on Saturday, but conflicting dates this year. Check out the pic below of Deb. There is also a Link at the top of the Hellkats MC homepage for Deb. Have a great week, CG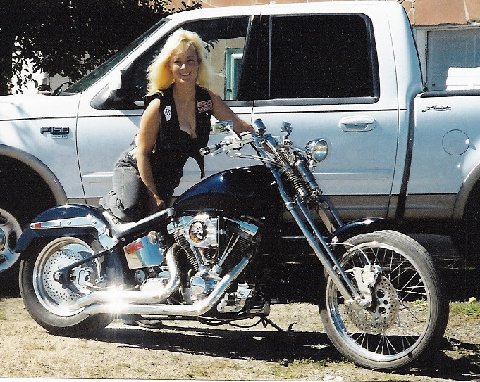 Saturday, 8 September 2007

Where have I been? Here there, everywhere. Labor Day weekend I actually stayed close to the house for once, my Sis and her husband rode down from up north and we spent the weekend with them. We split off on Sunday and the guy's went one way and we rode the other. We rode up to the city and made a stop at Shady Jack's, grabbed some lunch there and left our bikes and walked down to the STL landing for the Big Muddy Blues Fest. Hung out there for awhile and than went back to get our bike's and did some more riding and eventually ended up back with the OM for dinner. One of the best Labor Day weekend's as far as weather went we've had in a long time. We've been getting a nice two day soaker here and we needed it so bad, everything was so fried up when I got back from Sturgis. Today is the Big Mo Biker Bash out in Hillsboro, MO. Guess I'll be taking the truck, not to fond of parking my bike in a Big Muddy Field. There should be a flyer posted on my Events Page. I have two tournaments coming up next weekend and the weekend after. I went in two days ago for an MRI of my shoulder which has not been right since I fought in June, I think I might have a slight tear in the rotator cuff, I'll find out this Tuesday. I have a road trip planned for MN the last week of September, not going to be to many more rides up that way before the snow starts flying. Have a great week, CG
Wednesday, 15 August 2007
ARKANSAS,MINNEAPOLIS AND STURGIS
I'm home after a lot of time on the road. I made a run down to Eureka Springs, AR at the end of July and than left for Minneapolis on the 3rd of August. I had a nice visit there with Skat's daughter, wehad a girl's days shopping etc and than went out to the cemetary together. My sister Powder rode in and met me there and the two of us left for Sturgis on the 5th. I can't remember ever having such nice weather for Sturgis. It wasn't to hot and we never had a drop of rain. I've got about 35,000 on the 2006 now. I came home to a fried garden and the pasture's are gone too. while I was gone we under a bad heat wave, 100's everyday and it's still going this week. The last I looked today it was 106 and add the Missouri humidity, well.....It's not good. I've been bringing my horses in and hoseing them down in the mornings , putting them in their stalls with their fans and turning them out about 10:00 PM. Karate was rough last night after a two week lay off, but I needed a break to let a sore shoulder heal. I have two tournaments coming up in September and the last tournament I did was July 21st and I only did forms because of the sore shoulder and did well, I took second place to my sensei and that was the first time we competed together and there was 17 competitors in our division, so I was real happy with the outcome. I plan on fighting at the next two in September. Going to get Cruella out on Saturday IF it cools down a bit. Have a great week, CG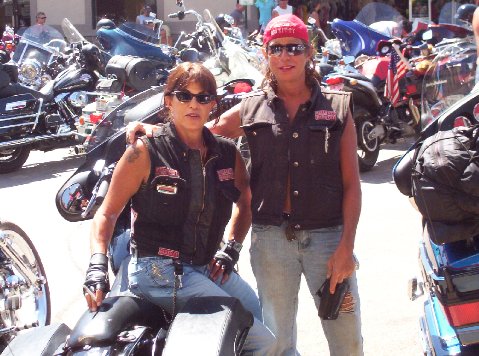 Monday, 9 July 2007
HERE THERE EVERYWHERE!
Been getting lot's of miles on. I took a ride up to Chicago and than up to Wisconsin towards the end of June. Got most of the work done around the property, but it's never ending. I have to pull the fuel line off the tractor and clean it out and put in a new tranny filter. But it's never ending with the yard work around here. I went to a local bike show on Sunday with Cruella, I was hoping she was going to be "Good", because the temps were in the high 90's and the humidty down here can make it feel like 120. Nothing like kicking a bike that doesn't feel like starting in the heat, but she was so good all day, one or two kicks. We didn't stay at the bike show all day, stopped in for an hour or so, than took a ride to a little watering hole where the air was cool and the Beer was cold. I have another ride this weekend out of town and yet another at the end of the month and than it will be time for Sturgis again. Have a great week, CG
Sunday, 17 June 2007
AWARDS BANQUET
Well another year has come and gone and once again I got to wear a DRESS! I accepted my 1st place year end awards in both Kata and Sparring. It's been a very long weekend and I'm drained from all the socializing, road trip Friday!CG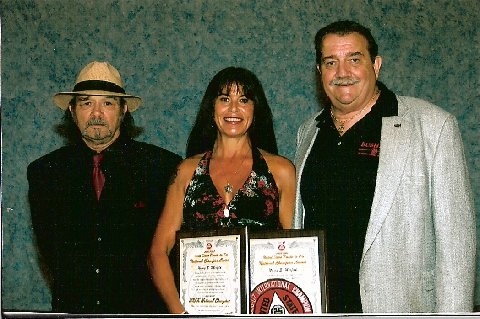 MY SENSEI'S MCMULLIN AND MR. ROBERT YARNALL


Friday, 8 June 2007
GET 'ER DONE!
I've been trying all week to get things caught up around the farm, but shit just keep's taking a shit. The mower broke, just a simple spring, you'd think Sears would stock the thing at their parts store, NO! I had to order it online because the one from the auto parts store wasn't strong enough, still waiting for it after a week. Than I put aside last Sunday to brush hog the fields, made two rounds and the rear tire blew. It was old, but damnit, I really wanted to knock the top offf that field while it was at seed. Just about every one knows a handy man and we have a local, Joe's his name. Joe does a lot of work on Big Rigs and farm equiptment around here. Hadn't seen him in a few years but I knew if anyone had a tire, it'd be Joe. I took a ride out there and sure enough he told me he had a guy who had a used one in good shape he could get me for $150.00. I said I need it and he told me he would come out and pull the tire off and get me going. Joe hadn't changed none from the first time I met him almost 20 years ago. Still greasy, still spitting every 60 seconds and still had three junk yard sheaprds sunbathing that would sure enough bite your leg off if you pulled in there at night. He shows up this morning with the tire, a new tube and asks me to drive the tractor down to the compresser and he'd get 'er done. Orignially he was going to come out and take the rim back with him. Talk about service, in less than an hour he had the old one off and the new one on and than tells me I only owe him $100.00 for the tire, $30.00 for the tube and $25.00 for the service. If you ever priced tires for a Big Tractor, well they ain't cheap. I told him I'd stop by after I went to the bank. I gave him $50.00 for the service, and $130.00 for the tire. There are still some good honest people out there. I did a few acres tonight and tomorrow it will be all day tanning on the tractor. Sunday I have a ride planned. Have a safe weekend, CG
Monday, 28 May 2007
WEEKEND RIDES
I met up with Cat in Columbia,IL and we took a ride down route 3. Seem's everyone was already at their weekend destination's or on the Big Road becasue we had it all to ourselve's. We rode over to Marion and Carbondale and grabbed some lunch and than over to Giant City State Park. Took a break there in the Lodge and went on over to Devil's Kitchen Lake. After that it was over to Makanda to the Hippey Place. Found a new watering hole on the way called Rum Runner's, kind of off the main road, but easy to access. From there we went to Old Shawneetown. We booked a room through HogDaddy's Bar. You can getcha a room at the Shawnee Chief or the Flop house which is a block from Hogdaddy's, the Motel is about two miles away and they did have road blocks up checking for alcohol,but you need to call ahead as the Flop House was booked for the weekend. Sunday morning we made a visit to Cat's Parents home and than found a great restaurant around Murphysboro called Tippey's. After a good home cooked dinner and some carrot cake we cut back over to the River Road and parted ways at Chester, IL (home of Popeye). The sky was getting black and we both missed the rain. Monday I took Cruella for a ride into the city of STL. I guess I ended the month with about 6000 miles between the two bikes. I'll be training hard the next couple week's as my Karate Nationals are coming up June 15-17th.
Thursday, 24 May 2007
SAFE MEMORIAL WEEKEND TO YOU ALL

I had the best ride to Minnesota which made up for the rain and smoke earlier in the month. This wasn't a pleasure trip, rather another private funeral service for Skat who was finally laid to rest. Thanks to BFJ, Tanya and Renee for helping me through this once again. My ride home was even better, 600 miles is a breeze on Hammer. I got home on Monday and looked at my trip meter from the 4th of May I'm right at 5000 miles added to the odometer and I'm doing a little road trip Sat-Sunday, might bring it up to 5500 this month, maybe a little more or less. Brushogging tomorrow hopefully and Saturday morning, I'm out of here. Have a Safe Memorial weekend and I'll see you back here next week, CG
Thursday, 17 May 2007
WHERE HAVE I BEEN?????
My tournament went well, took 1st in Forms and Sparring, got both year end titles. next up was the new rear tire and fluids for Hammer, got that done. Left out on May 3rd in Rain all the way to Clear Lake, IA. That's about 450 miles from here. I was to meet up with some friends in the morning at Albert Lea. It never stopped raining and moring came and more rain. This was the same weekend that the tornadoes hit Kansas. My destination was Okoboji, IA at Spirit Lake. A couple of my sisters made it in that weekend, we had rain the entire time. We left out Sunday morning to yet more rain and high winds. LJ's windshiel blew off her bike and Powder's bike blew over at a gas station. I parted ways with them and rode 450 miles in extreme wind and rain and when the hail started, I got a room. I set my alarm for 5:00 AM and woke up to sunshine. 150 miles home and I pulled in the garage, said Hi to my critter's, swapped gear bags on my bike and me and the OM were off to Florida for a family event.Our ride to Florida was great, down there, well.....screw the Love Bugs. We were there about three days and when we left we got caught in the fires and they shut down the Interstate, took a 40 mile detour and ran along the coast and up through Mississippi. Had the best meal at Jack & Rips in Grenada, MS. Got home Monday night, drained all of Hammers Fluids, refilled him on Tuesday, got caught up on everything around here and I'm headed for Minnesota in the morning. I'll catch up with you when I get back, CG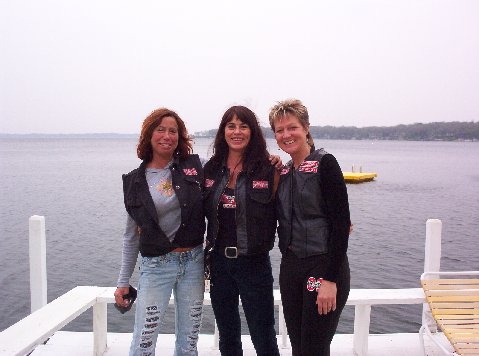 Thursday, 26 April 2007
BIKE BLESSING

We had really good weather for the Bike Blessing last week.A special Thank-you to Bob and Donna from the Tribe Of Judah MC for blessing Cruella for me. I have my last Tournament this weekend before our Big International Tournament in June. As of now it look's like I have won the Sparring and Forms again this year,even if I don't make this last tournament, no one can pass me up in the point standings in either division UNLESS there was an error made along the way so I'm going to make sure I secure the Titles one more time Hitting the road next week, I'll catch up with you along the way if possible. CG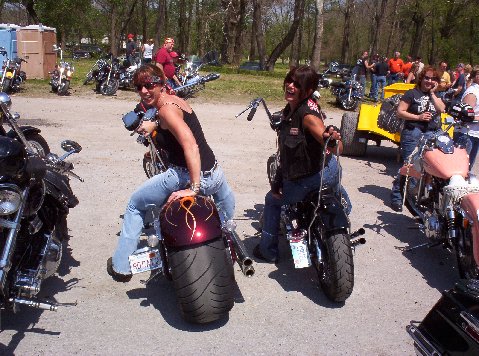 Friday, 20 April 2007
BUSY, BUSY
I have beeen so busy with Spring here. I've already had to mow this place twice and if it wasn't for all the rain we've had, I'd have probably done it even more. Cruella and Hammer have been seeing their share of the road especially with the gas prices back up so high. Hammer got another new rear tire and brake pads. He's set to hit the road here in less than two week's. I'm taking Cruella to the Bike Blessing at Falling Springs on Sunday. Than I have a 1200 mile ride the next week, get home on Sunday night, reload the bike and off to Florida for a few days for a family event. Not sure which way we will ride back, might run up the East Coast, maybe run the southern border, no set plan. I'll have a two day rest period to get things back in order around here and to spend some time with the critter's and than up to Minnesota. Life is Good! Have a Great week, CG
Sunday, 1 April 2007
CRUELLA
We couldn't have asked for a nicer day for the Bike Show at TJ's Bar in Pevely, MO. today. Breezy, Sunny and low 70's. The OM took a ride over there early afternoon. I have to say I was very proud of my "Girl" today. I had everything set and timed just purrfect and she was running like a Kat outta Hell. Maybe it was her new kicker pedal, I don't know, but she insisted on one kick starts everytime for the past few days.Have a great week, CG
Thursday, 29 March 2007
BIKE SHOW

Way to much fun in Minnesota this past weekend, but it was also a lot of work. My sister's Vicki and LJ and I had the opportunity to visit with alot of old friends as well as new. thaks to all the Hellkats supporter's who stopped by to visit us. I fired up Cruella today and all I have to do tomorrow is tighten the chain, check the air and give her a Spring bath. There is a local Bike Show this Sunday at TJ's in Pevely, I'm not going to enter the show, but I'm going to go up there for some local socializing. Have a great week, CG
DONNIE SMITH BIKE SHOW PHOTO