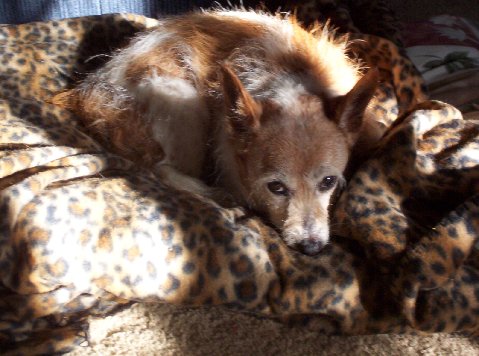 I lost my little Isabella two week's ago. She wasn't doing real well, has had lot's of problems over the years with skin allergies, thyroid problems, arthritis, but she was my long time rodeo companion, traveled across the country and back with me. I had given her a bath in the morning because I was going to take her to the vet late afternoon. I let her outside and she walked around the shrubs and I only turned my back for a second and she had walked back into the mudroom and was laying on the rug breathing real heavy. I picked her up and she had a heart attack right there in my arms and died within one minute. I guess it was God's way of sparing me the grief of possibly having to make the decision later on that day as whether or not it was time to put her down.
Work has slowed down quite a bit. I'm finally getting a life back, we're closed on Sun and Mon for the winter months. I usually spend Sunday sleeping and I'm working out again with Sensei on Monday mornings, man am I out of shape. Spent Helloween in Minnesota with my Hellkat Sisters and I will be heading up that that way over the Christmas/New Year Holiday period. Our shop is closed during that time, so I'll have some time off.
My daughter came over for Thanksgiving, and we had the usual Turkey dinner, just the three of us and all the critter's.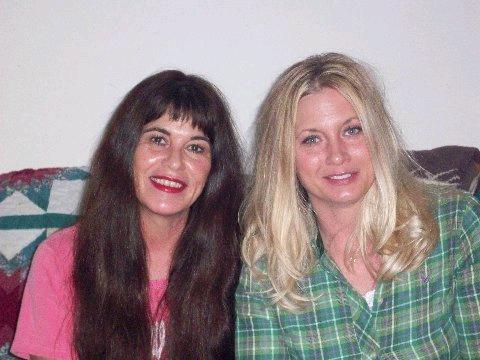 Pretty much have put Cruella up for the winter. haven't got much riding in this year, I'll be lucky to turn 15,000 before the year is over. I ride to work every day, but that's only a 52 mile roundtrip. If I know it's going to be a shitty day, than I'll take my truck on that particular day to get supplies whie I'm in town. Hammer is running real good, just about 65,000 mile on him now. I was looking up some stuff for Sturgis for this next year and I browsed at some of the pictures and didn't have to look far to find this one, it was a thumbnail leading to a whole page of pictures.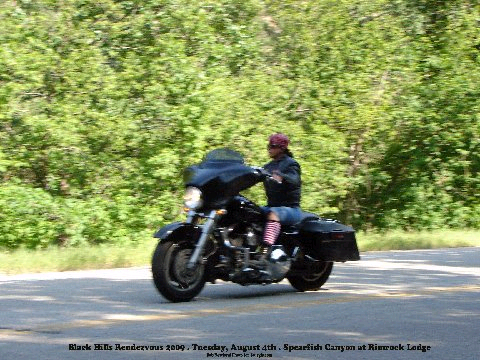 Yup, I'm wearing Red & White striped socks with below the knee cropped jeans, my version of shorts on a bike, which I seldom do. Already making plans for this next year and it is a week later this year being the 70th and all, so don't screw up thinking that it's the first week. You can get all the info at www.sturgis.com I wish you all a Merry Christmas in case I don't get a chance to get back here before that(and it's OK to say MERRY CHRISTMAS!!!!!!!!!!!!!) Later, CG